Joseph Receives the 2018 NCC ACI Outstanding Student Award
April 23, 2018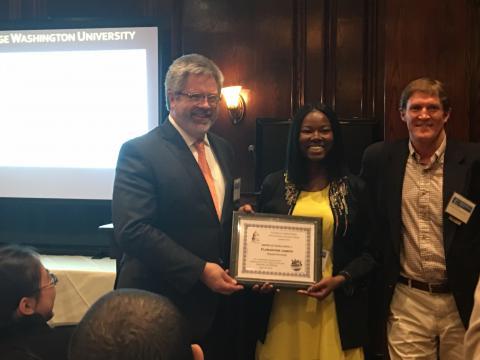 Florantine Monica Joseph, a graduating senior in the Department of Civil and Environmental Engineering, is the recipient of the 2018 National Capital Chapter - American Concrete Institute (NCC ACI) Outstanding Student Award. Joseph was recognized at the NCC ACI Student Award Dinner on April 18, 2018 in Tysons Corner, Virginia.
Joseph receives the award as a milestone in her active and involved undergraduate years in the College of Engineering and Architecture at Howard University. Joseph serves as President of the Howard University American Society of Civil Engineers (ASCE) Student Chapter and Executive Vice President of the College Student Council. She also volunteers regularly with Howard University Ambassadors of Engineering.
Joseph joined Howard University in Fall 2014 from Boston, Massachusetts, with a keen interest in Civil Engineering. The next step in her promising career is to serve as a project engineer for Clark Construction Group beginning in August 2018.
We congratulate Ms. Joseph and wish her success in all her future endeavors!
Categories
Civil and Environmental Engineering