Alumnus Jamel Ali and Associate Professor Patrick Ymele-Leki Featured in C&EN for $1M NSF-Funded Bacteria Research
April 30, 2021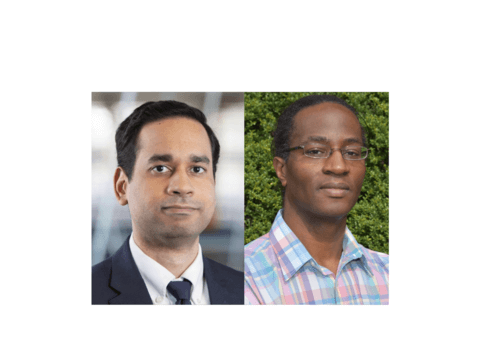 Chemical Engineering Alumnus Jamel Ali, Ph.D., assistant professor of chemical and biomedical engineering at the FAMU-FSU College of Engineering and National High Magnetic Field Laboratory partners with Patrick Ymele-Leki, Ph.D., interim chair and associate professor of chemical engineering on bacteria research funded by a total of over $1M in National Science Foundation grants. The pair were featured in a special issue of Chemical & Engineering News (c&en), a publication of the American Chemical Society (ACS), that celebrated 2021 Black Trailblazers in the chemical sciences and engineering.
Dr. Ali and Dr. Ymele-Leki are collaborating on two projects involving biofilms, the formation of bacterial communities and the development of nanoscale biological sensors. Both researchers will be using new specialized lab equipment that will enable them to investigate bacteria and their properties at the nanoscale level.
"These projects will foster and enhance the research capacity at two HBCUs: Howard University and FAMU. The projects fit well within the scientific and educational environment at both HBCUs. Students participating in these studies will come from underrepresented groups and will acquire multidisciplinary training and proficiency skills in STEM fields," said Dr. Ymele-Leki.
The researchers will investigate the role of biofilms in the development of antibiotic-resistant microorganisms that can cause severe infections and lead to disease. Biofilms live on biological surfaces (where they can form dental plaques on teeth or build up mucus in the lungs of cystic fibrosis patients), on environment surfaces (where they may create pond scum on the surface of stagnant water), and on man-made surfaces (where they can colonize filters in sewage treatment or bioreactors in pharmaceutical industries). Biofilms can grow on plant and animal tissue, as well as on implanted medical devices. The goal of this research is to aid in the diagnosis and treatment of illnesses and diseases caused by biofilms.
They will also work to develop nanoscale biological sensors that will aid in the development of more efficient treatment options for the illnesses and diseases caused by biofilms. Nanoscale biological sensors will have the capacity to detect changes in the biological environment that cannot be detected with existing biological sensors.
"Antimicrobial-resistant (AMR) strains of bacteria are increasing and if we want to develop new antibiotics and diagnostic tools to effectively identify and control their spread, we need to better understand what physical forces drive their drug resistance," said Dr. Ali
Categories
Alumni, Research, Chemical Engineering and College of Engineering and Architecture