Architecture Alumnus Julian Arrington Lead Designer for Society's Cage
October 30, 2020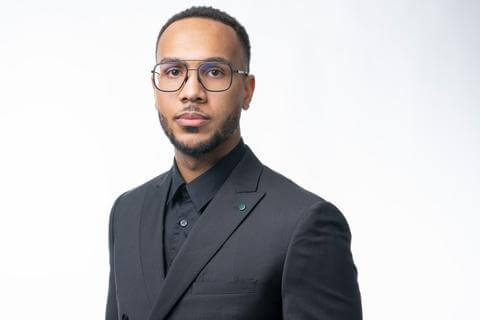 Architecture Alumnus Julian Arrington ('15) of SmithGroup, an international architecture, engineering and planning firm, served as one of two lead designers for Society's Cage, an art installation that makes "a statement on the forces of systemic racism" (SmithGroup). Dayton Schroeter, a Design Principal from SmithGroup, also served as a lead designer. Arrington and Schroeter led a discussion on the Society's Cage project with Howard University architecture students, faculty and friends on October 26.
"The project was a process driven design, anchored in research and data. Research focused on four primary areas: Black Executions, Civilian Killings by Police, Death by Lynching, and Mass Incarceration. Using this data, a quartet of graphs was produced to present the findings and from here the pavilion's aesthetics took shape, giving a spatial dimension to institutional racism in the United States," they said to students.
Inspired by the aftermath of current events stemming from police brutality, including the murders of George Floyd and Breonna Taylor, the installation is saturated with facts about the injustices that have been carried out against African Americans and quotes from activists and social leaders in the fight for racial justice.
"It may be true that the law cannot make a man love me, but it can stop him from lynching me, and I think that's pretty important," a quote from Martin Luther King, Jr., is just one sample of the powerful quotes found within the installation.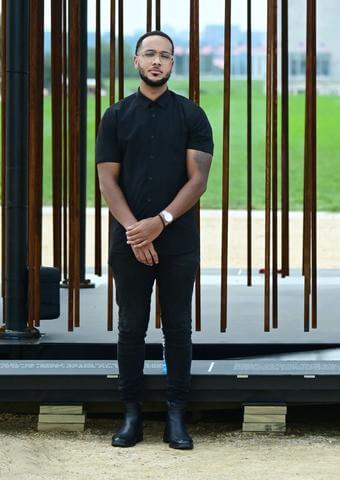 The installation was initially displayed at the National Mall from August 28 to September 12. It is currently being displayed at the War Memorial Plaza in Baltimore, Maryland through October 30. The plan is for the installation to travel through major cities across the country and share unspoken parts of American history.
Arrington was born in Brooklyn, New York with his mother's creative spirit and his father's analytical skills. He always knew that he would pursue a field in which he could unleash his creative spirit. Architecture was not a field Arrington had considered until his mother made the suggestion. Wanting to attend a top historically black college or university, Arrington found the architecture program at Howard University to be very competitive. It was a perfect fit for Arrington's creative spirit and competitive personality.
The experience Arrington gained at Howard University was invaluable to him. The supportive university community is rich in its diversity, even within the African diaspora. Howard University provided the experience that prepared him to succeed in the workforce. At Howard University, he was always judged based on merit and work ethic.
A goal of Arrington's is to provide others with the same insight and sense of empowerment he gained from his experience at Howard University. Arrington pays it forward with his service as a design juror to Howard University architecture students. He had an incredibly positive experience as a student in the architecture program and continues the Howard University tradition to give back with his generous support.
Arrington vividly remembers his second-year jury review for his final project. Architecture studies become very intense after the first year and he felt like he had become somewhat passive. His second-year jury review was a wake-up call for his competitiveness and inspired him to return and serve as a juror.
And his best advice to architecture students?
"The first five years out of school are the years when you learn the most and discover who you are. Push yourself. After that, continue to polish your skills. Always continue learning and refreshing your abilities."
Arrington also advises students to never hesitate to reach out to alumni. Howard University alumni support is unwavering. The university community is like one big, happy family.
Categories
Alumni and Architecture