Civil Engineering Professor Lorraine Fleming Elected to the UC Berkeley Academy of Distinguished Alumni
June 1, 2022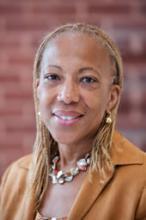 Howard University civil engineering professor Lorraine Fleming (BSCE '79) has been elected to the Academy of Distinguished Alumni by the Department of Civil and Environmental Engineering (CEE), University of California, Berkeley. She will be inducted at a banquet on the Berkeley campus on June 16, 2022. CEE faculty established the CEE Academy of Distinguished Alumni in 2012. Among the  objectives of the Academy are to honor the outstanding professional accomplishments and contributions of CEE alumni and to present Academy members to students as examples of successful CEE graduates and role models. The CEE Academy shines a light on the achievements of its graduates. 
Lorraine Fleming received her Ph.D. (1985) in civil engineering (CE) from the University of California, Berkeley, with an emphasis in geotechnical engineering. She received her B.S. (1979) in CE from Howard University, and M.S. (1980) also in CE from the George Washington University. Following graduation, Dr. Fleming joined the faculty at Howard University where she was promoted to professor in 1996 and has progressively assumed important leadership positions, including serving as the chair of the Department of Civil and Environmental Engineering (1994-2000), and interim dean of then College of Engineering, Architecture, and Computer Sciences (2013-2016). 
Dr. Fleming is currently the Executive Director and Principal Investigator of the Howard STEM Education Research Center. Dr. Fleming's scholarship and research are at the forefront of the emerging interdisciplinary field of engineering education research. Her research team of engineers, scientists, and social scientists explores issues of persistence, diversity, and global preparedness on the education of engineers and scientists. She has published over 40 peer-reviewed manuscripts in journals and conference proceedings and has been awarded over $15M in research funding over the past 10 years. Throughout her career she has been active professionally serving, among others, as an ASCE Program Evaluator (1999-2012) reviewing domestic and international civil engineering degree programs for compliance, as an Evaluation Visiting Team Member, Middle States Commission on Higher Education (2008 to present) and is currently the Vice-Chair of Operations and member of the Executive Committee of the ABET Engineering Accreditation Commission.
Dr. Fleming's professional contributions have been recognized through many awards and recognitions, including: the U.S. Presidential Award for Excellence in Science, Mathematics and Engineering Mentoring (PAESMEM) from President Obama (2015), the Champion Award, Engineer of the Year Award from the District of Columbia Society of Professional Engineers (2014), the Centennial Career Achievement Award from the College of Engineering, Architecture & Computer Science at Howard University (2012), Howard University Faculty Senate Award for Exemplary Mentoring (2011), and Engineering Educator of the Year—Golden Torch Award, from the National Society of Black Engineers (2008).
Dr. Fleming has been an active participant in Cal Alumni Association, and she is a member of the UC Berkeley Black Engineering and Science Alumni Club (BESAC). She was a speaker at the first symposium of the Black Graduate Engineering and Science Students (BGESS)'s meeting in 1987 and was a featured program speaker at the BESAC-BGESS 50/30 Anniversary reunion in 2018. Most recently, Dr. Fleming was honored as one of the trail blazers in UC Berkeley's celebration of 150 Years of Women.
Categories
Alumni and Civil and Environmental Engineering