Computer Science Students Win First Place at CCSC Eastern's 37th Annual Regional Conference
December 8, 2021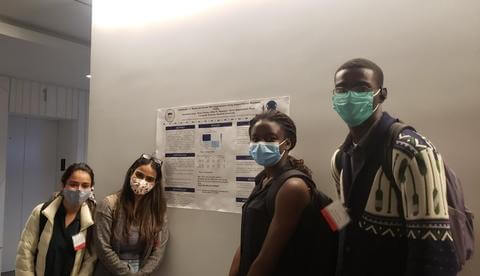 Howard University computer science sophomores Surakshya Aryal and Taiwo Oriowo and graduate student Mikel Kengni recently won first place for their poster at the Consortium for Computing Sciences in Colleges (CCSC) Eastern's 37th Annual Regional Conference. The winning poster was titled "Predicting Racial & Gender Microaggressions Using Support Vector Machines (SVMs)". Computer engineering sophomores Anu Upadhyaya and Anu Soneye also participated.
CCSC invited students to submit poster proposals for their current research work on relevant research topics. Accepted proposals received an invitation to the conference to present during a student poster session. Students were to prepare to discuss their research in detail with conference attendees.
"Microaggressions are subtle insults that are really tricky to identify in human speech.  The AI these students are developing will one day help humans become more empathetic and have better overall communications," said Gloria Washington, Ph.D., faculty advisor and Howard University assistant professor of computer science.
Bias found in microaggressions and hate speech costs billions of dollars to U.S. companies. Our team's research will create smarter diversity and inclusion training that will lead to more productive and more self-aware employees across the nation.
Congratulations to our team!
(Pictured at top: [Clockwise] Anu Upadhyaya, Surakshya Arya, Anu Soneye, Taiwo Oriowo; pictured to the right: Mikel Kengni)
Categories
Research, College of Engineering and Architecture and Electrical Engineering and Computer Science