Howard University College of Engineering and Architecture Seniors Win Director's Award at the DOE Solar Decathlon 2022 Design Challenge
May 5, 2022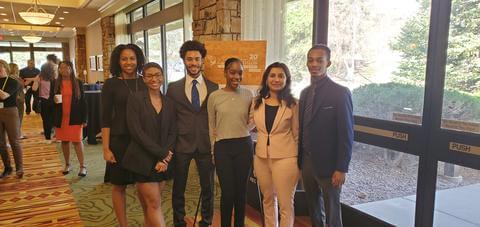 The Howard University team of engineering and architecture seniors, Howard's Gateway, won the Director's Award for the US Department of Energy Solar Decathlon 2022 Design Challenge. The recipient of the Director's Award is selected by the Solar Decathlon director to recognize a team who exhibited outstanding performance during the competition event and demonstrated passionate enthusiasm for affecting change through their participation in Solar Decathlon. 
Howard's Gateway was selected as one of 55 finalist teams from around the globe. Team members included architecture seniors Daphne Arko-Dadzie, Dean Bailey, El Adon Bey, Dia Harris, Amina Johnson, Malik Johnson, Sha'Tonia Presley and Etana Sesay and civil and environmental engineering senior Lauren Moore. Etana Sesay led the team and Nea Maloo, Howard University architecture lecturer served as the faculty advisor for the team, accompanying five of the team members to the National Renewable Energy Laboratory in Golden, Colorado for the competition event.
Check out the team's video on our Instagram! 
About the Solar Decathlon Design Challenge 
Teams competing in the Solar Decathlon Design Challenge work in multidisciplinary teams, and optionally with a Design Partner, for one or two academic semesters to prepare creative solutions for real-world issues in the building industry. The competition culminates in the Solar Decathlon Competition Event, where student teams present their designs to a panel of industry experts, discuss design strategies with peers, learn from thought leaders, and connect with industry partners through unique networking opportunities. Winning teams are recognized with awards on the international stage, and winning design projects are also posted on the Solar Decathlon website. Through the vast global Solar Decathlon network, this high-profile competition provides national exposure and recognition for successful teams and collegiate institutions.  
The Solar Decathlon Design Challenge continues to build a global community of current and future professionals dedicated to providing solutions to complex problems related to climate change, affordability, and environmental justice through building design. 
Categories
Architecture, Civil and Environmental Engineering and College of Engineering and Architecture