Meet Our Bison STEM Scholars
February 12, 2019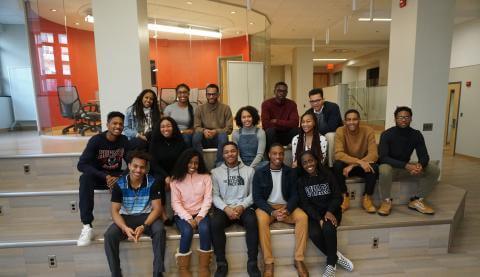 Updated, January 23: The Bison STEM Scholar Program has been renamed the Karsh STEM Scholar Program (KSSP). The KSSP is funded by a generous donation from Martha and Bruce Karsh. Read more. . . .
Howard University's Bison STEM Scholar Program (BSSP) is its most challenging program yet. If you are not familiar with BSSP, here is a quick breakdown:
The BSSP is a program intended to attract high-achieving and community-service oriented high school students into various STEM disciplines. These students must maintain a minimum required GPA, along with a rigorous academic plan towards obtaining a Ph.D. or medical degree, and demonstrate excellent leadership and team-working skills with the discipline to motivate themselves and others. They must also have research interests which they actively develop throughout their tenure at Howard University.
An exceptional number of these scholars have given us the honor of calling them our own. Each one of these bright scholars is indeed unique and exemplary. Listed by department/program below are our scholars:
Chemical Engineering:
Patricia Mensah
Pilar O'Neal
Sekou Rowe
Jordan Smith
Ladaisha Thompson
Jurnee Tipton
Adeya Wyatt
Civil and Environmental Engineering:
Moriah Brown
Cameryn Burnette
Justin Drummond
Eric Hagerman
Lauren Moore
Computer Engineering:
Robert Coleman
Essien Taylor
Computer Science:
Christopher Flowers
Joed Ngangmeni
Genesis Smothers
Nicole Sullivan
Bradon Thymes
Electrical Engineering:
Earl Tankard
Mechanical Engineering:
Ameen Muhammad
Paa Sey
Their individual stories will be posted periodically. Stay tuned to meet them individually!
Categories
College of Engineering and Architecture