A Tribute to Professor Emeritus and Alumnus Victor C. W. Dzidzienyo
December 3, 2020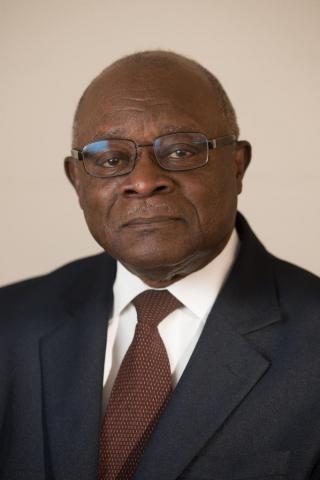 We celebrate the life of Architecture Professor Emeritus and Alumnus Victor C. W. Dzidzienyo (B.Arch. '67; MCP '69). We deeply appreciate his dedicated service and extend our condolences to family and friends. The magnitude of this loss has inspired our architecture faculty to prepare a tribute:
A Tribute to Our Teacher, Mentor, Colleague, and Friend
Professor Emeritus Victor C. W. Dzidzienyo passed away on Friday, November 20, 2020. He had a long and illustrious career as an educator, administrator, and practitioner in the United States and abroad, especially in his homeland of Ghana.
Before joining the architecture and planning faculty in September 1969, Professor Dzidzienyo graduated with two degrees from Howard University, the Bachelor of Architecture in 1967 and the Master of City Planning in 1969. He served his alma mater in many capacities before retiring in June 2017. His exemplary service as Associate Professor of Architecture, Acting Dean of the School of Architecture and Planning, Associate Dean of the College of Engineering, Architecture and Computer Sciences, and Director of the School of Architecture and Design at Howard University represents the highest ideals of academia and the University's visions of truth and service. It is important to note that he led the Department of Architecture as Chair several times during the various configurations of the School and College.
Professor Dzidzienyo left an indelible imprint on the nearly 1,700 students who graduated from our architecture and planning programs during his tenure at Howard. About 250 of those graduates completed the Bachelor of City Planning and Master of City Planning degree programs. Countless others have been impacted by his nearly 48 years of service that were highlighted by scholarship and achievement.
His commitment to students and academic excellence was demonstrated by the establishment of the Tau Sigma Delta Honor Society in Architecture and Allied Arts, Alpha Beta Chapter at Howard University in December 1970. Serving as its advisor until his retirement, he shepherded the induction of over 200 students in architecture into this honor society to serve as exemplars in the field of architecture. He was recognized with the Society's Silver Medal for Leadership. Along with others at the school, Professor Dzidzienyo worked to establish the Alpha Rho Chi (APX), Hemiunu Chapter at Howard in March 2013. Howard's APX chapter is one of only 32 active chapters and 25 alumni associations across the United States of the national fraternity for architecture and the allied arts. His achievements and tireless work on behalf of the students were recognized by Lambda Alpha International, George Washington Chapter, the honorary land economics society, when he was inducted in 2001.
His focus on applied architecture research supported the strong connection to the Architecture Research Centers Consortium, which held its national conference at the University in 2014. Noted by one of the HBCU architecture deans, Dzidzienyo "was the face of the program" at the Association of Collegiate Schools of Architecture and the Environmental Design Research Association conferences as well as countless meetings of the HBCU Architecture deans and directors.
His professional career in the United States began amidst the mounting backdrop of social unrest in the 1960s. He worked with Rev. Walter Fauntroy during protests and was involved in the Model Inner City program in the Howard University neighborhood, the U.S. Department of Housing and Urban Development's (HUD) first investment in community participation as a planning and development tool. He worked on these issues as Director/City Planner for the first community-based advocacy planning organization, Model Inner City Organization (MICCO) funded by HUD for the Shaw Area Urban Renewal Project in Washington, D.C. He also served as a consultant to numerous public, private and non-governmental agencies at the local, national and international levels. One such role was as the Project Manager for the "Master Plan for Ogun New Town Project for the Federal Republic of Nigeria". He was a certified planner with the Ibadan Metropolitan Authority in Nigeria. He maintained a selective international consultancy practice in design, community development, project planning and development and education, blending the training gained by his two Howard degrees.
His professional experiences as a designer and city planner indeed provided real world experiences for his students. His strong advocacy of community service with an activist orientation for direct action, undoubtedly led to his coining the term "the architect activist" which is attributed to training Howard architecture and planning students to be change agents in their communities. Students received hands-on training in this tradition. His support of community redevelopment was demonstrated through his work in Haiti after the 2010 earthquake and to cross-cultural and cooperative relationships to connect Howard University with African schools/institutes of architecture.
He traveled widely throughout the United States, Western Europe, Caribbean and Africa, and lectured on socio-cultural indicators for planning the design and the impact on community planning, revitalization and governance. Beginning in the mid-1970s, he led the first groups of Howard architecture and planning students to study aboard in Haiti and throughout Europe and Asia, among other places.
The outpouring of admiration has been tremendous as the news of Professor Dzidzienyo's transition has circulated through the Howard Architecture family. Affectionately known as "DZI", he was not only a professor but a mentor, colleague and friend to so many. His leadership and counsel to more than a generation of practicing architects and planners will not be forgotten. He touched so many people through his professional and academic endeavors that his legacy will live on.
Categories
Alumni, Architecture and College of Engineering and Architecture