Alumna Sylvia Wilson Thomas Inducted into the AIMBE College of Fellows
June 12, 2020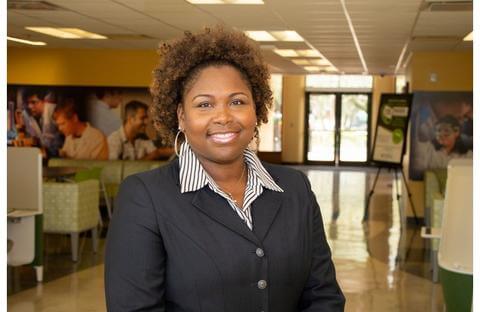 Electrical Engineering Alumna Sylvia Wilson Thomas (Ph.D. '99) was recently inducted into the American Institute for Medical and Biological Engineering (AIMBE) College of Fellows Class of 2020. The AIMBE College of Fellows has inducted 2,000 fellows since it was founded in 1991. According to the AIMBE website, "fellows are nominated each year by their peers and represent the top 2% of the medical and biological engineering community. They are considered the life-blood of AIMBE and work towards realizing AIMBE's vision to provide medical and biological engineering innovation for the benefit of humanity."
Dr. Wilson Thomas began developing as a leader in engineering in her early college days. She assumed leadership roles for collegiate chapters of professional organizations, such as the National Society of Black Engineers (NSBE) and became not only president of the Vanderbilt University Chapter of NSBE but was elected as national secretary for NSBE.
Born in the small Mississippi town of Itta Bena, Dr. Wilson Thomas was raised in a household that strived for academic excellence. Her parents were both in academia, her mother Verna B. Wilson was a math teacher and her father Eddie Wilson, Ph.D. was a computer science professor at Mississippi Valley State University. "Growing up was a joy," she recalls. "I practically grew up on a college campus."
Dr. Wilson Thomas always loved studying and thinking outside of the box. "As an engineer, that's important," she adds. She remembers when she first explored the engineering disciplines as a high school student. In her junior year of high school, her father enrolled her in a summer program at Vanderbilt University, through which she was introduced to different engineering disciplines. After pursuing her bachelor and master's degrees in electrical engineering at Vanderbilt University, Dr. Wilson Thomas assumed various roles in industry, such as an operations specialist for Kimberly Clark Corporation. Though extremely successful in industry, she had always wanted to follow in her father's footsteps and obtain her Ph.D.
Enrolling in the electrical engineering doctoral program at Howard University would provide her with the support system she longed to experience at a historically black university. Howard University offered more than just an excellent academic program. Dr. Wilson Thomas joined Howard University as a National Science Foundation (NSF) Materials Research Center of Excellence fellow. During her doctoral program, she was also an NSF EAPSI research fellow in Korea at Chonbuk National University. After obtaining her Ph.D. under the advisement of Professor Gary Harris, Ph.D. and then Professor Michael Spencer, Ph.D., Dr. Wilson Thomas returned to industry with Lucent/Bell Labs for a few years before entering academia to make a difference in the lives of future STEM leaders.
Dr. Wilson Thomas is currently an associate professor in electrical engineering and former assistant dean at the University of South Florida (USF) College of Engineering. She is a senior member of the National Academy of Inventors. Dr. Wilson Thomas has held many distinguished positions, such as the first female chair of both the Florida Education Fund and the Engineering Workforce Commission of the American Association of Engineering Societies and president of the Institute of Electrical and Electronics Engineers Engineering in Medicine and Biology Society Florida West Coast Section.
Dr. Wilson Thomas has also received many prestigious awards throughout her career, more recently receiving the 2020 US Black Engineer BEYA Educational Leadership Award and the 2018 USF Women in Leadership and Philanthropy Award for her outstanding leadership and dedication to STEM education, diversity, and professional development. She has also earned recognition in local and national news and publications. She was an invited speaker for a United Nations briefing on "Girls and Technology" in 2004. One of her most notable roles in working to achieve diversity in STEM is her role on the inaugural Board of Directors for Black Girls Code (BGC). Dr. Wilson Thomas plans to help BGC target one million girls by 2030.
What keeps her motivated?
"I really enjoy doing what I do. I like being optimistic and seeing the positive side of things. I have been able to impact change in a lot of students. It gives me so much joy to see them become successful," she says.
And her best advice?
"Get a mentor so you can talk to people who have been through it and can share their experience. For me, always having a goal directing my path helps me. I know I am going to reach my goal, and I tell myself that I will overcome obstacles along the way," says Dr. Wilson Thomas.
Categories
Alumni and Electrical Engineering and Computer Science