Alumnus David Canada Receives BEYA 2021 Science Spectrum Trailblazers Award
April 1, 2021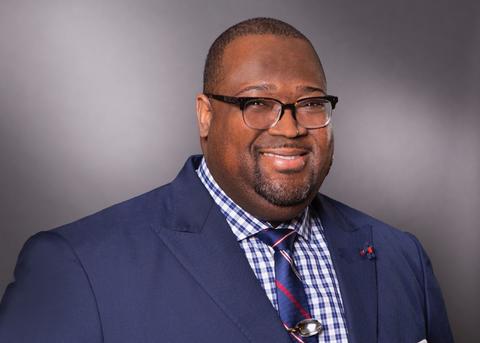 Mechanical Engineering Alumnus David Canada (BSME '04) received the Black Engineer of the Year Awards (BEYA) 2021 Science Spectrum Trailblazers Award. The award recognizes distinguished individuals who are making a difference in mathematics, biological sciences, physical sciences and social sciences.  
"This award is significant because it demonstrates an industry appreciation of my efforts to grow the STEM pipeline within. It is also a charge to me that there is more work to be done and I am committed to working as hard as possible to blaze a path for others to follow," said Canada. 
Canada became passionate about science and engineering through the National Association of Mathematics, Engineering, Science Achievement programs (MESA) in elementary school. He would always volunteer to solve problems in class. By the age of ten, Canada was winning engineering competitions hosted by MESA. He recalls two of his winning projects: a rocket-propelled car and a crane made from drinking straws that could hold a fifty-pound cinder block. Early on, he says, he learned through these experiences that science and engineering impacted all aspects of life. 
Despite difficult life circumstances, Canada's mother always stressed the importance of education and encouraged him to do his best. She enrolled him in the Baltimore Polytechnic Institute, a top STEM high school in Baltimore City, with full awareness of the bright future a STEM education would hold for her son. "It was her foresight that put me in a position to learn all that I did during my high school years," he adds. 
When his mother passed in 1994, Canada promised his mother on her deathbed that he would strive to be the best engineer he could be and help others along the way. He enrolled in the mechanical engineering program at Howard University (HU) to accomplish just that. HU offered unique opportunities to work with corporations, learn emerging technologies and enhance leadership skills. The incorporation of African American history and its rich heritage into curriculum at HU was also of critical importance to him. 
Canada found the HU community to be very supportive. It always felt like he and his peers were all in it together. There was a strong sense of camaraderie and support for one another. He says it was at HU that he "learned how to build strong relationships and approach challenges with confidence and innovation". These skills were pivotal when he later worked on the Bell Boeing V-22 Osprey line as an industrial engineer. He also gained valuable experience and leadership skills as a member of the HU chapter of the National Society of Black Engineering (NSBE). His membership had a lasting impact. He is now an active member and corporate representative for NBSE, BEYA, and Advancing Minorities Interest in Engineering. 
After graduating from HU, he was accepted into an engineering rotational program at Chrysler. In this role, he worked on the launch teams for the Chrysler 300, Dodge Magnum & Charger programs. "It was an amazing opportunity to see how the products I was working on would be received by the public and the impact that engineering has on driving consumer confidence and improved customer experiences," he says.  
Throughout his diverse career, Canada has held positions in engineering, information technology, finance and supply chain. He says he was always willing to accept the tough assignments because that is where the real learning and experience begin. Additionally, his career goal was not just to gain technical expertise but also to have a strong grasp on business acumen.  
"It is important to learn as much from failures as you do successes and that has help me propel my career to where I am today," said Canada. 
Giving back was what Canada intended to do from the start. He has served as the deputy focal for university relations between Boeing and Howard since 2007, leading campus recruiting efforts and other initiatives. At Boeing, Canada currently serves as senior manager of strategy and operations. He also serves on the boards of many non-profit organizations such as Black Alliance of Colleges & Employers, Step Afrika, Wearable Tech Ventures, The Life Enrichment Group, Positive Deposits and Whine & Cheese. 
And his best advice to current and prospective students? 
"Embrace the journey. Engineering is challenging but rewarding. Be inquisitive, adaptable and coachable. Engineers are professional problem solvers, so with that comes a certain amount of responsibility that you must be accountable for on a daily basis. The ability to communicate and build relationships is as important as your technical aptitude, but work on improving those skills daily," shares Canada. 
Categories
Alumni, College of Engineering and Architecture and Mechanical Engineering