Alumnus Dereje Agonafer Achieves Highest Professional Accolade
July 13, 2018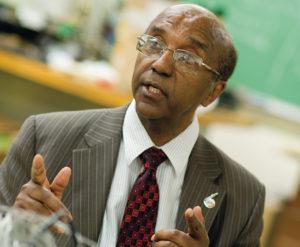 Mechanical Engineering Alumnus Dereje Agonafer has been elected as a National Academy of Inventors (NAI) Fellow.
"The NAI Fellows Program was established to highlight academic inventors who have demonstrated a prolific spirit of innovation in creating or facilitating outstanding inventions that have made a tangible impact on quality of life, economic development and the welfare of society. Election to NAI Fellow status is the highest professional distinction accorded solely to academic inventors.
The program has 912 Fellows worldwide representing more than 250 prestigious universities and governmental and non-profit research institutes. Collectively, the Fellows hold more than 32,000 issued U.S. patents, which have generated over 9,400 licensed technologies and companies, and created more than 1.3 million jobs. In addition, over $137 billion in revenue has been generated based on NAI Fellow discoveries" (NAI).
Dr. Agonafer obtained his Ph.D. in Mechanical Engineering from Howard University in 1984. Dr. Agonafer's academic and professional accomplishments are well-abounding and continuous. Even while he was a Ph.D. student at Howard University, he was receiving awards such as ASME Most Outstanding Graduate Student Award and the ASME Instructor of the Year Award. These awards were the beginning of a lifetime filled with awards and recognition for excellence.
Dr. Agonafer's exceptional research activity includes major breakthroughs, pioneering in hierarchical thermal modeling and over 230 publications. He currently serves as Site Director for the NSF IUCRC Center in Energy Efficient Systems and Director of the Electronics, MEMS & Nanoelectronics Systems Packaging Center at the Department of Mechanical and Aerospace Engineering of the University of Texas at Arlington.
We congratulate Dr. Agonafer on his continuous achievements!
Categories
Alumni and Mechanical Engineering