Alumnus Oscar Barton, Jr. Named Morgan State Engineering Dean
August 3, 2020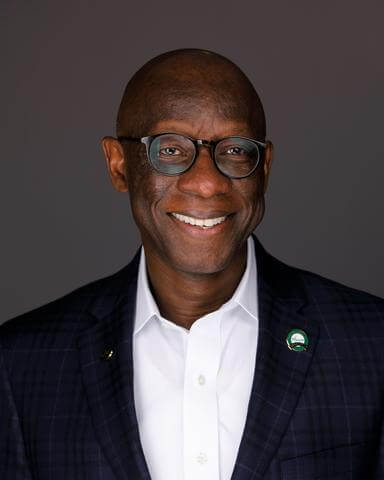 Mechanical Engineering Alumnus Oscar Barton, Jr. (MSME '87, Ph.D. '93), the first African American to receive the Ph.D. in mechanical engineering from Howard University, was recently named dean of the Clarence M. Mitchell, Jr. School of Engineering at Morgan State University. Dr. Barton's leadership will assist with the efforts of engineering deans at historically black colleges and universities (HBCUs) to diversify the engineering fields and promote the position of HBCUs as leading research institutions in science and engineering.
A native of Washington, D.C., Dr. Barton is the last of the generations born at Freedmen's Hospital, what is now called Howard University Hospital. Given our current climate and the racial disparities linked to CoVID-19, "the significance of the era of the Freedmen's Hospital is becoming more apparent," he comments. Freedmen's Hospital was one of the first hospitals to offer medical treatment to former slaves.
Dr. Barton has always maintained high aspirations. After receiving his bachelor's degree in mechanical engineering, Dr. Barton felt that he needed more extensive knowledge in the field in order to really make a difference. "I didn't know enough," he comments. He knew he would need a Ph.D. in his field. Of course, Howard University was his first choice to pursue graduate studies in mechanical engineering. Howard University offered much more than its excellent academic programs. Howard University possesses a rich culture, which encompasses the most important aspects of community. For Dr. Barton, the philanthropic culture at Howard University was contagious. "There was a clear, maybe unspoken, expectation that you give back – in industry or academia," he adds.
While completing his Ph.D., Dr. Barton served as the project director for a bridge program called Preface that attracted students from around the country, providing them with the experience of a college setting. It was clear to him that his opportunity to give back would be through academia. Dr. Barton was eager to "transfer knowledge and work with students". He would go on to successfully mentor several dozen students as a part of independent research projects, as well as programs such as the Trident Scholar Program. He would also publish over 60 articles for academic journals and conferences on the research topics of the development of approximate closed form solutions for linear self-adjoint systems, the analysis of dynamic systems, and the dynamic response of flexible composite structures subject to periodic and random excitation.
Despite his success in the field of mechanical engineering, to also include his leadership in the establishment of the nuclear engineering program at the United States Naval Academy and the mechanical engineering program at George Mason University, Dr. Barton did not embark upon this path of success with a particular interest in mechanical engineering. In fact, Dr. Barton was initially interested in pursuing a degree in architecture. Building was a passion of his from early on, but engineering was not. Dr. Barton had developed a fear of math in his early school days.
"What drives success is realizing you need to leverage your fears," he says. Every day for months when he was in middle school, he would pick up a physics book, Foundations of Physics, and review the text to slowly familiarize himself with its content and overcome his fear.
During his successful career of twenty-two years at the United States Naval Academy, Dr. Barton recognized institutional bias towards minority students. Dr. Barton served as one of only three African American professors in the entire institution to obtain the rank of tenured full professor and the first to obtain this rank in his division, the Division of Engineering and Weapons. This is where Dr. Barton also began his career with the Accreditation Board for Engineering and Technology (ABET, Inc.), serving as a program evaluator and commissioner, and now as a member of the Engineering Accreditation Commission's Executive Committee. Dr. Barton is also a fellow of the American Society of Mechanical Engineers (ASME) and has served in various leadership roles for the ASME Committee on Engineering Education and the ASME Committee on Engineering Accreditation.
From the United States Naval Academy, Dr. Barton transitioned onto his role as founding chair of the Department of Mechanical Engineering at the Volgenau School of Engineering at George Mason University in 2014. Dr. Barton's leadership resulted in an increase in enrollment from merely twelve students to a remarkable 390 students in a span of only six years.
And his best advice?
"Remember that it's your life and you have to find your passion. Day after day, you are just enjoying your life. Even though you are an engineer, independent of your career field, you need to have something driving that passion."
While Dr. Barton always wanted to be a professor, his dream was to one day become an engineering dean at an HBCU. A dream he has now fulfilled.
We congratulate Dean Barton on his recent appointment and fulfilling his dream. Dr. Barton will assume his role as dean of the Clarence M. Mitchell, Jr. School of Engineering on August 17.
We wish him all the best in his new role.
Categories
Alumni and Mechanical Engineering