Amazon and Howard University Announce Academic Collaboration
February 9, 2023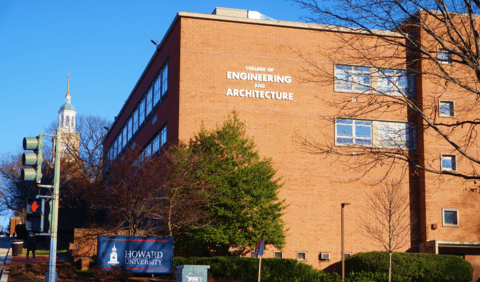 From The Dig:
In an ongoing effort to create enduring pipelines of diverse science talent and differentiated research, Amazon today announced a collaboration with Howard University, a historically Black college or university (HBCU) located in Washington, D.C. Founded in 1867, Howard is a research university comprised of 14 schools and colleges. 
As part of the collaboration, which will be housed in the College of Engineering and Architecture, Amazon will fund faculty research projects with an initial focus on machine learning and natural language processing.
"Through their research, funded in part by Amazon, our faculty and students are working to make advances in artificial intelligence, machine learning, natural language processing, e-commerce, and robotics," said John M. M. Anderson, dean of the College of Engineering and Architecture at Howard. "Importantly, the underrepresented minority students that are trained at Howard in these fields will become future innovators that create technology driven businesses and diversify the engineering and computer science workforce. Amazon's continued support of our faculty and students has furthered our research and educational activities and resulted in an exchange of mutually beneficial technological expertise."
As a component of these awards, faculty are assigned an Amazon Research Liaison who will stay in regular contact with the awardee for the duration of the project. Amazon Research Liaisons are technical subject matter experts who stay informed about the progress of the project and serve as a bridge to Amazon's scientific community.
"Serving as an Amazon Research Liaison for this important partnership has been rewarding, both personally and professionally," said Omid Sadjadi, a senior applied scientist with Amazon Transcribe. "We believe the faculty and students working on these projects will make meaningful impacts."
In October of last year, Amazon officials visited Howard's campus to help build on the growing research partnership between Amazon and Howard faculty. The visit included an information session covering Amazon Science internships for graduate students at Howard, including a panel discussion with Amazon scientists. In the evening, Amazon hosted a community engagement dinner for faculty from the College of Engineering and Architecture, research liaisons, and Amazon scientists.
"As soon as the opportunity arose to engage with Howard on an effort that my team could be a part of, I was all in," said Maureen Stewart Nordberg, principal product manager at Amazon Benchmarking. "Having worked with alumni from Howard and with some of the fellows in the program, I am excited to watch the engagement and of what additional efforts and innovation is to come."
The collaboration builds on an existing relationship between Amazon and Howard, including an ongoing collaboration between Howard and Amazon Studios to "diversify the entertainment industry by creating a pipeline for Black and other underrepresented students" and a 10-week summer practicum program sponsored by Amazon Web Services (AWS), which enabled Howard University undergraduate students to pursue both a cloud fundamentals course and an applied internship with AWS.
"We are confident that the scholarly works produced by this important research collaboration will advance technological innovation in strategic domains shared by Howard and Amazon," said Harry Keeling, associate professor of computer science. "Further, we believe that this collaboration will attract additional funding as well as accelerate our graduates' preparation for careers within Amazon."
What follows is information about the funded research projects and the faculty recipients:

CEA Faculty: Saurav Keshari Aryal, Legand L. Burge III, and Md Sami Hasnine
"Detection and prediction of adverse drug effects with deep learning."
Saurav Keshari Aryal, lecturer, electrical engineering and computer science; and Legand L Burge III, professor of computer science and executive director for the Howard West initiative
"Clinical notes contain rich information about patients' health status, clinical outcomes, and safety issues. The flexibility of free-text narratives enables physicians to record complex details beyond the scope of standardized data fields. Often, clinical notes record ADE occurrences and the physician's judgment on the causes of Adverse Drug Events (ADE). The rich contextual information in clinical notes holds great promise for improving ADE surveillance. We propose a deep-learning-based approach to unlock the value of the above-unstructured information in clinical notes. The proposed method integrates traditional natural language processing techniques and deep sequential learning to extract ADE happenings (occurrence, level of severity, and physician actions) from clinical notes and extracts implicit patient factors for ADE happenings at an individual patient level."
"Developing a hybrid recommendation system by modeling household-level online shopping demand."
Md Sami Hasnine, assistant professor of civil and environmental engineering
"The study aims to develop a series of advanced econometric models to estimate household-level online shopping demand. Then a recommendation system will be developed, which will be improved by using machine learning models so that consumers do not need to search for each item before ordering. Instead, a consumer can just review the proposed shopping list and choose the required items. Each household typically has repetitive daily, weekly, or monthly online shopping demands. Individual orders are generally classified as repetitive, seasonal, one-time purchases, etc. The outcome of this study is to generate a set of shopping lists daily, weekly, and monthly so that consumers can review them and order the revised items. This will immensely save consumers browsing time while shopping same products. In addition, the machine learning model will learn individuals' behavior over time and increase the accuracy of the recommendation system."
Categories
Research, Civil and Environmental Engineering, College of Engineering and Architecture and Electrical Engineering and Computer Science