Architecture Alumni Among Top Five Finalists for Parliament Design Competition in Kingston, Jamaica
March 28, 2019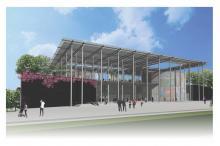 According to the announcement of finalists for the Government's Houses of Parliament Design Competition, the Office of the Prime Minister received a "resounding response from more than 200 architects in Jamaica and the diaspora". Out of those entries, 24 were selected to make a presentation of their conceptual designs for a new Parliament Building in Kingston, Jamaica, and five teams were then selected to advance to the second stage of the competition where they were required to submit more detailed designs. According to Gordon Gill, the project's adviser and patron, "Jamaica's new Parliament building has the potential to become the country's most iconic edifice."
One of those teams stands out as it includes Howard University trained architects. GSA Architects and Planners, led by Jamaican architect Guenet Anderson, includes Howard architecture alumni Leland Edgecombe, AIA, ASLA, AICP, CNU (B.Arch. 1978), Emerson Hamilton, AIA (B.Arch. 1979, M.Arch. 1982), Emmanuel Mdingi, AIA (B.Arch. 1996), and Nicholette Gordon (B.Arch. 2016).
Alumnus Leland Edgecombe is currently an Architecture Adjunct Assistant Professor. He reflects on his time as a student: "We were taught to be multidisciplinary and to understand not just architectural design but also city planning, landscape architecture, and urban design."
These disciplines are reflected in the backgrounds of his team members, which Edgecombe felt essentially set their team apart from other teams. "Our team is sensitive to the city planning initiatives and cultural identity of Kingston and understands the broad spectrum of impacts of the iconic building that is set in a dense urban fabric," Edgecombe added.
Many activities within the community will be connected throughout the 50-acre project, which both reflects Jamaica's past and represents the future under the new Prime Minister. The parliament building is a contemporary structure for the capital city which incorporates active and passive recreation to animate the site to draw in a cross-section of users.
Edgecombe also shared how competition experience is both enriching, as it enables the team to learn more about other cultures, and rewarding, since it is an international competition that required a blind submission. The latter he feels is a game changer since the five teams were selected based on the merits of their designs.
We wish our alumni the best of luck!
Watch highlights from the five finalist teams for the design of the New Parliament Building in Kingston, Jamaica.
For additional information about the competition:
Categories
Alumni and Architecture