Architecture Alumnus Jason Pugh Named Principal at Gensler and Serves as 2021-2022 NOMA President
April 21, 2022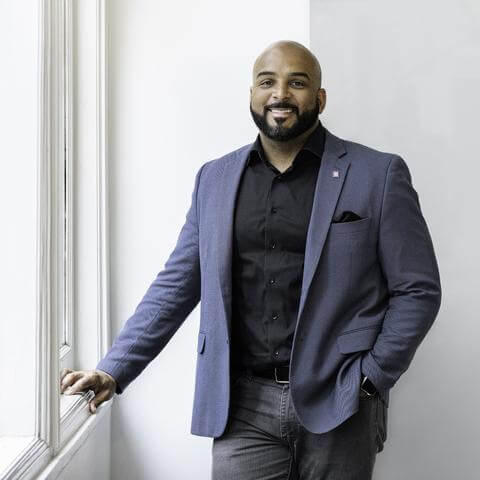 Jason Pugh, AIA, AICP, NOMA, LEED AP, (B. Arch. 2005) was named principal at Gensler, the world's largest design and architecture firm, according to Architectural Record. Founded in San Francisco, California in 1965, Gensler generated $1.2 billion in revenue in 2021, the most of any architecture firm in the U.S. Gensler operates offices in forty-nine cities in sixteen countries worldwide, working for clients in over one hundred countries.
Pugh is also serving as the 2021-2022 president for the National Organization of Minority Architects (NOMA). According to the NOMA website, the organization's mission, rooted in a rich legacy of activism, is to empower local chapters and membership to foster justice and equity in communities of color through outreach, community advocacy, professional development, and design excellence. NOMA aims to foster a community among minority architects, branch out to the larger community of professionals, and fight discrimination in the profession.
Being in these two powerful roles at this point in his career, Pugh admits is something that he could only have dreamed about. Considering himself a planner and always looking ahead, he has had his entire life planned out. Becoming NOMA president and principal at Gensler were surprisingly not part of his plan, but stepping up, volunteering, and recognizing opportunities have always been.
His path to a rewarding career in architecture began with his early interest in art. During his middle school years, Pugh attended a public performing arts school in Denver, Colorado, but it was not until his freshman year in high school that he was introduced to architecture. Surrounded by artist mentors whom he viewed as starving artists, he easily found architecture to be the optimal profession for him. Architecture was a profession in which he would be able to fully express his passion for art. For him, the path to architecture was more fulfilling and highly sustainable.
Pugh owes his success to the support of his family, their encouragement, and actively seeking out mentors in the community. He believes that mentorship is key to the success of rising professionals. Acknowledging and appreciating the impact his mentors had towards his success encouraged him to continue the tradition of mentoring in his community and returning to his alma mater to give back.
"I'm a direct byproduct of strong mentorship, which has the potential to drastically change any child's life and trajectory," says Pugh.
Familiar with the HBCU atmosphere from his older sister having attended Southern University and A&M College, Pugh was certain that he wanted to attend an HBCU. Given the supportive HBCU campus culture, rich history and legacy, and strong alumni networks, he knew an HBCU would provide the academic environment in which he would thrive. Now, what better school than HU?
"At the time there were ten or so HBCUs that offered a bachelor's degree in architecture, so my list of prospective schools was truncated out the gate. Once I learned that Howard University had one of the oldest and strongest programs that produced more licensed Black architects than any other school, my mind was set," recalls Pugh.
It was at HU that his relationship and involvement with NOMA began. Along with a few classmates, Pugh reactivated the HU student chapter of NOMA (HU NOMAS). Elected by his peers as HU NOMAS president, he began to connect with local architects and members of DC NOMA or the Washington, D.C. professional chapter of NOMA. Together they rebuilt HU NOMAS with valuable programming, lectures and events. Pugh continued his architecture education at Columbia University, earning his master's degree in architecture and urban design.
Having a "big soft spot for Howard" and all HBCU architecture programs, Pugh is determined to find more ways to partner with, enhance and support these programs, their prized faculty and bright students, which continue to be the top producers of Black architects in the nation.
And his best advice?
"Connect with more mentors, find and pursue your passions, and give back.  If you do these things with purpose and vision, everything will work out.  As for exceptional learning experiences, I could honestly write a book with over sixteen years of professional experience, but for now I would encourage students to always speak up and share your ideas with confidence, challenge the status quo, and work hard to be the change that you want to see, "says Pugh.
Categories
Alumni, Architecture and College of Engineering and Architecture