Architecture Graduates Elevated to the College of Fellows of the American Institute of Architects
February 5, 2018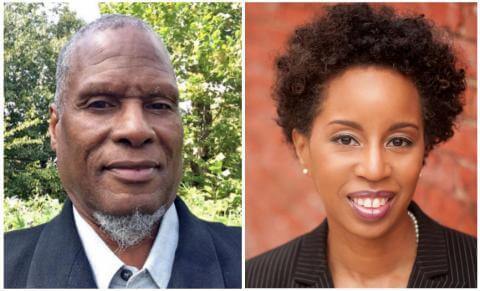 We are pleased to announce that two graduates of the Howard University Department of Architecture, Kwendeche (B.Arch. 1976) and Kathy Dixon (B.Arch. 1991), have been elevated to the College of Fellows of the American Institute of Architects (FAIA).
This is an unparalleled honor and the highest individual recognition bestowed by the Institute. The selection process is rigorous. Approximately three percent of the more than 90,000 AIA members have this distinction. The recipients of the FAIA are recognized for their outstanding contributions to the profession either through design, architectural education or the advancement of the profession after 10 years of AIA membership. The 2017 FAIA class consists of 178 people.
It is also significant that two graduates from Howard University's relatively small program were selected in the same year. This has happened four previous times: in 1979, Isham Baker, FAIA (B.Arch. 1952) and Lorenzo Williams, FAIA (B.Arch. 1950); in 1990, Walter Blackburn, FAIA (B.Arch. 1963) and Harry Robinson, FAIA (B.Arch. 1966/MCP 1970); in 1992, Robert Bryant, FAIA (B.Arch. 1954) and Major Holland, FAIA (B.Arch. 1964); and in 2001, Ricardo Herring, FAIA (B.Arch. 1973) and Melvin Mitchell, FAIA (B.Arch. 1967).
In total, nineteen Howard architecture graduates have been elevated to this honor. The other recipients include: Gary Bowden (B.Arch. 1963/FAIA 1994); Charles I. Bryant (B.Arch. 1954/FAIA 1991); Edward Cherry (B.S.Arch. 1953/FAIA 1996); Henry C. Hardnett (B.Arch. 1972/FAIA 2005); William R. Lawson (B.Arch. 1966/FAIA 1997); Robert Nash (B.Arch. 1955/FAIA 1973); Sumon Sorg (B.Arch. 1970/FAIA 2002); Roberta Washington (B.Arch. 1970/FAIA 2006); and John Welch (B.S.Arch. 1930/FAIA 1987). Their service to the profession demonstrates their commitment to excellence.
The 2017 Fellows will be honored at an investiture ceremony during the AIA Conference on Architecture in Orlando, Florida (April 27 – 29, 2017). They were honored at their alma mater on April 12, 2017.
Congratulations to Kwendeche, FAIA and Kathy Dixon, FAIA for this significant accomplishment.
For more information, see: https://www.aia.org/college-of-fellows?query=&sortDirection=desc&sortFie...
Howard University Architecture Graduates
College of Fellows of the American Institute of Architects
1973 | Robert Nash, FAIA (B.Arch. 1955)
1979 | Isham Baker, FAIA (B.Arch. 1952)
1979 | Lorenzo Williams, FAIA (B.Arch. 1950)
1987 | John Welch, FAIA (B.S.Arch. 1930)
1990 | Walter Blackburn, FAIA (B.Arch. 1963)
1990 | Harry Robinson, FAIA (B.Arch. 1966/MCP 1970)
1991 | Charles Bryant, FAIA (B.Arch. 1954)
1992 | Major Holland, FAIA (B.Arch. 1964)
1992 | Robert E. Bryant, FAIA (B.Arch. 1954)
1994 | Gary Bowden, FAIA (B.Arch. 1963)
1996 | Edward Cherry, FAIA (B.S.Arch. 1953)
1997 | William Lawson, FAIA (B.Arch. 1966)
2001 | Ricardo Herring, FAIA (B.Arch. 1973)
2001 | Melvin Mitchell, FAIA (B.Arch. 1967)
2002 | Sumon Sorg, FAIA (B.Arch. 1970)
2005 | Henry Hardnett, FAIA (B.Arch. 1972)
2006 | Roberta Washington, FAIA (B.Arch. 1970)
2017 | Kwendeche, FAIA (B.Arch. 1976)
2017 | Kathy Dixon, FAIA (B.Arch. 1991)
Categories
Alumni, Architecture and College of Engineering and Architecture