Architecture Lecturer Nea Maloo Selected as 2021 NCARB Scholar
December 8, 2021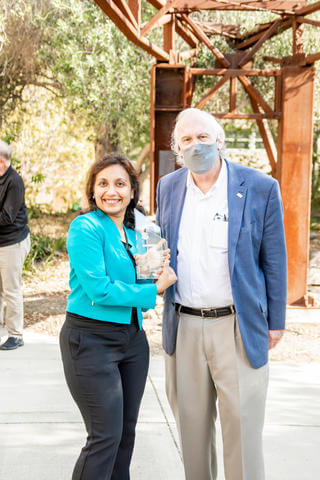 Architecture lecturer Nea Maloo, AIA, was selected as a 2021 National Council of Architectural Registration Boards (NCARB) Scholar. A total of fifteen professional practice professors from architecture programs throughout the country were selected to participate in the third annual NCARB Scholars in Professional Practice training event.
The training event provided a platform for educators to discuss and brainstorm ideas to enhance the delivery of professional practice courses for architecture students. The event included presentations on topics such as ethical decision making, teaching methods and curriculum integration, marketing and business development, legal responsibilities for professionals and leading collaborating practice.
"The collaboration with my peers from around the country, along with the interactive sessions, was very enriching, providing additional resources for my personal teaching pedagogy. I also enjoyed participating as the witness in a mock trial concerning the liability of architects," said Maloo.
Attendees shared their ideas on how to fully engage students to develop their professional growth and competency. They also explored a wide range of skills, including communication, perception and marketing skills and participated in several activities through presentations and interactive sessions, learning about leadership models for example.
An important area in which attendees brainstormed and collaborated was to find solutions to common difficulties when teaching professional practice that they had identified together.
This event was also a great opportunity for the educators to receive updates on NCARB's support of professional practice educators, new developments for obtaining licensure and the upcoming NCARB survey and blog, Analysis of Practice.
(Pictured at top: Maloo presented with 2021 NCARB Scholar in Professional Practice Award by NCARB Past President Robert "Bob" Calvani. Right: Maloo shares ideas. Bottom: Maloo with the twelve other 2021 scholars who attended in-person. Photo credit: NCARB)
Categories
Architecture and College of Engineering and Architecture