ASCE NCS Board Commends ASCE HU Student Chapter on Outstanding Performance
January 16, 2020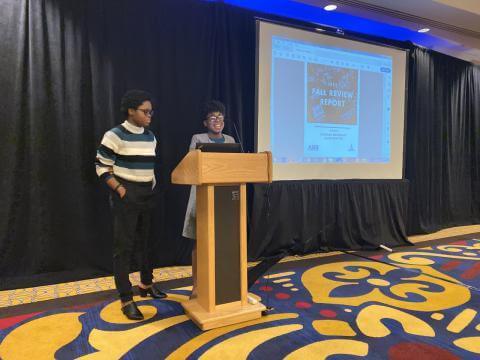 The Board of Directors of the National Capital Section (NCS) of the American Society of Civil Engineers (ASCE) commended the ASCE Howard University Student Chapter (ASCE HU) for its exceptional performance this academic year.
ASCE HU President Camille Wallace and Vice President Jhanelle Davy presented the chapter's 2019 Fall Review Report to the board at a recent ASCE NSC meeting. The report included planned activities, as well as the chapter's goals and objectives, which have been met successfully. ASCE NCS President Kelly Cronin commented on the quality of the "outstanding handouts".
The chapter's activities included professional skill building through hosting company info sessions, resume workshops, site visits and mentorship activities. The chapter also participated in Noche de Ciencias, or Night of Science, of the Society of Hispanic Professional Engineers; ASCE conferences; and competitions such as the AISC Steel Bridge Competition. Other activities included partaking in various volunteer opportunities, hosting guest lecturers, and providing critical software lessons to members.
In a recent email to the chapter's faculty advisor, Civil and Environmental Engineering Assistant Professor Hessam Yazdani, Ph.D., Director of the ASCE NCS Education Committee Jameelah Ingram, PE described the chapter's endeavors as "so well-balanced under Camille and Jhanelle's leadership". Ingram continues, "I was highly impressed by the events organized for HU ASCE. The chapter is developing members internally with technical lectures and workshops. On the other hand, the chapter continues to reach out to the community via environmental clean-up efforts and interactions with K-12 students. . . I know that the future of engineering looks promising because of them. . . I'm so proud."
Dr. Yazdani adds, "We are deeply proud of the chapter and congratulate its leaders and members on their remarkable performance. We look forward to witnessing the continued success of our students and are ecstatic at the prospect of seeing them leading the civil engineering profession."
Categories
Civil and Environmental Engineering