Assistant Professor Hessam Yazdani and Senior Kamau Sykes Receive Awards at the ASCE-NCS Annual Awards Ceremony
April 8, 2021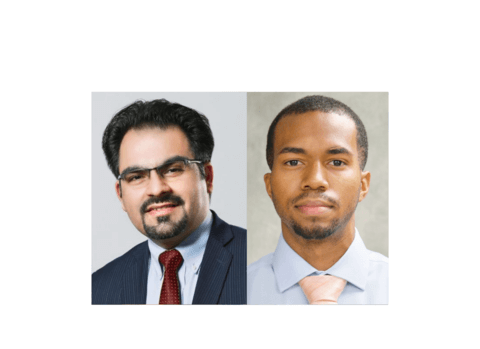 Civil and Environmental Engineering (CEE) Assistant Professor Hessam Yazdani, Ph.D. recently received a 2021 National Capital Section of the American Society of Civil Engineers (ASCE-NCS) Community Service Award and senior Kamau Sykes was recognized as Outstanding Graduating Senior. ASCE-NCS holds an annual awards ceremony to recognize and celebrate engineers and students who have demonstrated excellence and contributed to the civil engineering profession and the community.
"I am very honored to have received this award," said Dr. Yazdani. "The Section has provided tremendous support for our students over the years by awarding scholarships, recognizing outstanding graduating seniors, and offering free admission to its events and venues. We are appreciative of this support. We have collaborated with the Section in different ways from hosting events for students and NCS members in the DC area to participating in NCS activities. We look forward to deepening our collaborations with the Section and contributing to its mission."
"I am very grateful for and humbled by this award as it really could have been any one of my classmates. I express my gratitude to my professors as this achievement could not happen without their help and support," said Sykes.
Sykes serves as vice president for the ASCE Howard University (HU) chapter, is an active member of Tau Beta Pi, the engineering honor society, co-captain for Tropical Riddimz, an HU Caribbean dance team, and is a Water Environment Federation (WEF) 2019 InFLOW Scholar, through which he is further enhancing his leadership skills. He is also the co-founder of the Howard University Water Polo Club. Sykes has interned at DC Water's Research & Development division where he was part of a team focused on the nitrogen removal pilot. Sykes has also participated in research under the supervision of Assistant Professor Jeseth Delgado Vela, Ph.D., which focused on the resilience of communities and water resource recovery facilities to extreme wet weather events, such as heavy downpour, that have the potential to disrupt water services including drinking water supply, wastewater conveyance and treatment, and stormwater management.
Associate Professor Robert Efimba, Ph.D., P.E., commented: "As a past president of the National Capital Section and a past governor of ASCE's Region 2 (PA, MD, DE, and NCS), I offer hearty congratulations to the leaders, organizers, speakers, and all award recipients at the First Virtual ASCE NCS Annual Awards Celebration conducted in the evening on March 23, 2021. I am particularly proud of my distinguished colleague Dr. Hessam Yazdani for his Community Service Award, and our Most Outstanding Graduating Senior Kamau Sykes for his award, both in the spirit of excellence here at Howard University, alma mater of Kamala Harris, the first female and first black vice president of the United States!"
Categories
Civil and Environmental Engineering and College of Engineering and Architecture