Assistant Professor Hessam Yazdani Receives NSF CAREER Award for Advanced Materials Research
June 28, 2021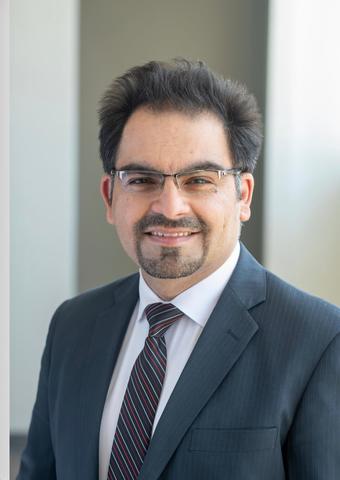 From the Howard Newsroom:
WASHINGTON – Howard University Civil and Environmental Engineering Assistant Professor Hessam Yazdani, Ph.D., recently received the prestigious National Science Foundation (NSF) Faculty Early Career Development award, known as the CAREER award, for his advanced materials research.
The CAREER Program is the NSF's most prestigious award in support of early-career faculty who have the potential to serve as academic role models in research and education and lead advances in the mission of their department or organization.
"The NSF CAREER award is a great enabler to increase the number of minority students involved in cutting-edge research and innovation and to promote diversity in STEM," Yazdani said. "I would like to thank the members of my lab for their hard work in getting us here and my departmental colleagues for their encouragement and support."
Yazdani described the award was an exciting opportunity for Howard University students to participate in research on advanced materials.
"Through its granting of the CAREER award, the NSF is both recognizing Hessam Yazdani's early contributions as an assistant professor in civil and environmental engineering and providing him support so that his academic career continues to result in impactful research that benefits the nation while effectively educating tomorrow's civil engineers at Howard University," said John M. M. Anderson, Ph.D., dean of the College of Engineering and Architecture.
The award will support Yazdani's advanced materials research project titled "Multiscale Mechanics of Carbon Nanotube-Polymer Composites" for a five-year period, from 2021 through 2026 with a total amount of $562K.
"We are excited about Dr. Yazdani's interdisciplinary, innovative research in advanced materials," said Kimberly L. Jones, Ph.D., chair of the Department of Civil and Environmental Engineering. "This CAREER award will enable him to expand his impact from the laboratory into the classroom. He has already established himself as a leader in integrating undergraduate students in research, and I am excited that he will continue this through this multiyear project."
Advanced materials play a growing role in the prosperity, security and global competitiveness of the United States. In particular, high-performance, multifunctional polymer nanocomposites, around which Yazadan's research revolves, hold great promise to change conventional paradigms in different fields such as civil infrastructure, aerospace, biomedicine and additive manufacturing.
The overall research goal of Dr. Yazdani's NSF-supported project is to understand and predict the behavior of polymer nanocomposites using experimental and computational techniques and machine learning.
Yazdani expressed gratitude to past awardees at Howard University, including Anderson and Jones, College of Engineering and Architecture professors Claudia Marin and Danda B. Rawat for valuable discussion. He also thanked his collaborator, Elham Fini of Arizona State University, for constructive feedback.
Categories
Research, Civil and Environmental Engineering and College of Engineering and Architecture