Assistant Professor Tao Wei Receives NSF Early Career Development Award
January 23, 2020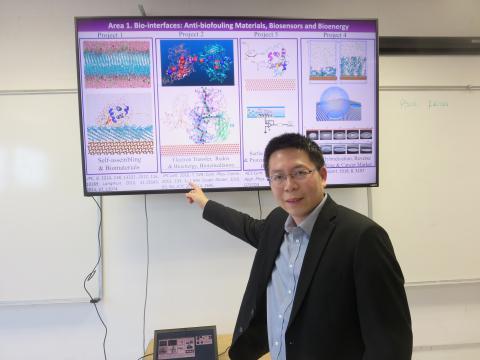 Chemical Engineering Assistant Professor Tao Wei recently received the prestigious National Science Foundation (NSF) Faculty Early Career Development (CAREER) award for his research on multiscale simulations of metal oxide nanoparticle-protein electron transfer. According to NSF, "the Faculty Early Career Development (CAREER) Program is a Foundation-wide activity that offers the National Science Foundation's most prestigious awards in support of early-career faculty who have the potential to serve as academic role models in research and education and to lead advances in the mission of their department or organization".
The overall research goal of Dr. Wei's project is to understand interactions between nanoparticles and dissimilatory metal-reducing bacteria (DMBR) for the advancement of nanobiotechnologies for environmental applications. The coupling of metal oxide nanoparticles with DMBR can generate continuous oxidation-reduction chemical processes that effectively remove toxic components from contaminated soil and water. This coupling is also used to produce continuous electrical energy in biofuel cells. The challenge is to increase the efficiency of associated nanobiotechnologies.
"The fundamental studies of this project will help develop more efficient technologies for environmental applications. The knowledge obtained from this project is also highly desirable and applicable to technology development in bioenergy, biocompatible materials and biosensors," says Dr. Wei.
Dr. Wei's research activities and findings will be used to develop new course materials in the chemical engineering programs. His research activities will also create invaluable research opportunities for our undergraduate and graduate students, which will assist in recruiting and retaining students in the chemical engineering programs, specifically aiming to diversify the field of biomaterials engineering. Since Dr. Wei joined Howard University in Fall 2017, he has been awarded over $1.3M in research grants from NSF and NASA/JPL. He has also published articles in peer-reviewed journals such as Langmuir, Scientific Reports, Journal of Chemical Theory and Computation and Journal of Molecular Liquids, as well as a book chapter in "Polymer Science and Innovative Applications: Materials, Techniques, and Future Development" on polymer simulations and physics. His research projects on biointerfaces, biosensing and polymer membrane were reported in a feature story in an annual highlight book published by Extreme Science and Engineering Discovery Environment (XSEDE) in 2018.
"Our department is currently celebrating its 50th year anniversary and a tradition of dedication, education, mentoring, training, research, excellence, and leadership. This is in no small part due to the effort and success of our faculty in tackling innovative and transformation research projects – with national and international recognition. Dr. Wei is a valuable member of a collegial group of high-quality researchers and educators who continue to set high standards in promoting Howard University's mission and meeting the needs of our global community," comments Patrick Ymele-Leki, Ph.D., Department of Chemical Engineering Interim Chair.
Categories
Research and Chemical Engineering