Associate Professor Preethi Chandran Awarded $500K NSF Grant for Biological Research
September 29, 2020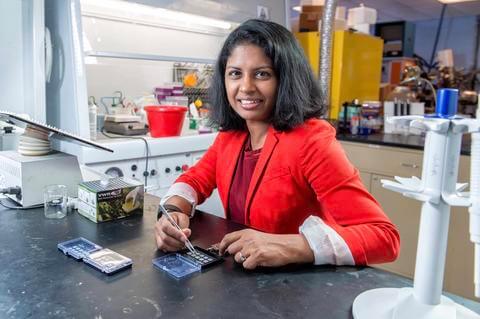 Chemical Engineering Associate Professor and Director of Graduate Studies Preethi Chandran, Ph.D., received a $500K grant from the National Science Foundation (NSF) through the Excellence in Research (EiR) program to study the biophysics of the shield of sugars (glycans) that typically covers pathogens.
"One may think of the sugars found in glycan shields as gooey, sticky stuff that coats cells. Our goal is to find the order in the gooey-ness so we can predict where a pathogen like SARS-Cov-2, the virus that causes CoVID-19, would stick to itself or to mucus, or if it would just slip past the scouts of the immune system and therapeutics as well," explains Dr. Chandran. "By deconstructing how the glycan shield protects pathogens, we can design strategies to breach the shield so that a broad spectrum of pathogens can be made vulnerable to detection, sanitizing, and treatment."
Dr. Chandran's Co-PI is Howard University Center for Sickle Cell Disease Deputy Director and Professor of Biochemistry Sergei Nekhai, Ph.D. The research will incorporate a team of undergraduate and graduate student researchers in fundamental studies that aim to discover holistic and economical approaches to combat the onset of infections. Ultimately, Dr. Chandran aims to develop new methods to study the interfacial dynamics of biomolecular surfaces and assemblies and to redirect naturally occurring biological interactions for a wide range of scientific applications.
"Awards granted by the EiR program at NSF encourage and support potentially transformative research by outstanding scientists and researchers at HBCUs," says Interim Chair of the Department of Chemical Engineering Patrick Ymele-Leki, Ph.D. "Our department is very fortunate to currently work on four separate projects supported by these highly competitive awards, and we are proud of the work done by Dr. Chandran and her colleagues to receive these grants."
Categories
Research and Chemical Engineering