Associate Professor Preethi Chandran Partners with Heart of Tabitha Foundation on STEM and College Readiness Workshop
September 11, 2020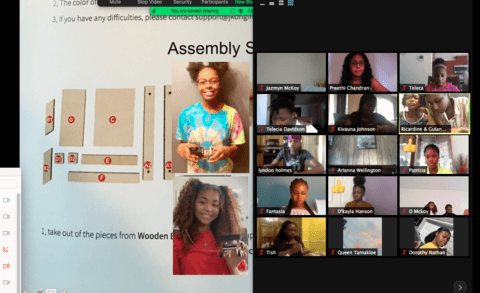 The Heart of Tabitha Foundation partnered with Howard University Chemical Engineering Associate Professor and Director of Graduate Studies Preethi Chandran, Ph.D., and Catholic University Biomedical Engineering Associate Professor Otto Wilson, Ph.D., to continue offering its annual summer workshop for local high school students in a virtual setting. The workshop focused on college readiness and STEM careers and featured speakers from several professions. In a hands-on STEM activity led by Dr. Chandran, students assembled a solar-powered remote-controlled car while discussing the engineering principles and disciplines involved.
Students and parents shared their comments on the workshop:
"My daughter and I are grateful for the STEM/STEAM course you offered last week. With Covid-19 shutting the country down, my freshman would not have had the opportunity to attend any classes this summer, especially at a university!" – The Broidy Family
"Thank you for giving me the opportunity to learn something new and gain more knowledge. The session was very inspiring and motivational. Thank you so much!" - Patricia Kaimapo, high school senior
"We had lots of fun making the cars. This is our first time learning about STEM. We think we will go to Howard University for college. Thank you." – Telecia and Teleca Davidson (twins)
"I didn't know the program was going to be so in depth. Please let us know of any more programs like this so I can have my son sign up. Lyndon is going to 9th grade this year." – Parent
"My time at The Heart of Tabitha workshop was an exhilarating experience. I had the opportunity to listen to returning Heart of Tabitha members who are now college students. They gave advice on how to navigate high school, in a way that sets you up for success. I also had the liberty of meeting and listening to doctors, professors and a career specialist on how they came to be who they are today. I cannot thank Dr. Chandran of Howard and The Heart of Tabitha Foundation enough for allowing me to be part of this amazing and life changing experience." -Queen Tamakloe
The Heart of Tabitha Foundation through its STEM Summer Career Discovery Program provides the opportunity for local underrepresented high school students to engage in enriching STEM activities that also introduce them to experienced mentors in both industry and academia.
The workshop was partially funded through a National Science Foundation grant awarded to Dr. Chandran.
Categories
Chemical Engineering