CEA Partnership with the College of Engineering of Carnegie Mellon University
June 19, 2018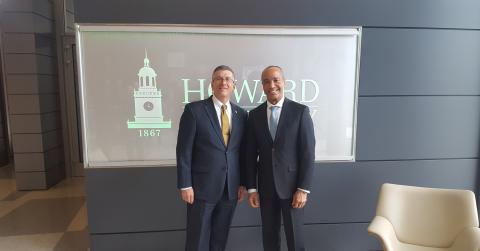 The College of Engineering and Architecture (CEA) has partnered with the College of Engineering of Carnegie Mellon University (CMU) to develop a dual degree program that enables Ph.D. level candidates at each institution to simultaneously earn a Ph.D. degree at each institution with an advisor at each institution in the relevant department.
Candidates will spend a minimum of three academic semesters in residence at each institution. This initiative will create no new academic program at either institution. Only existing programs at each institution will be a part of this initiative. Importantly, every Ph.D. student will only cost each institution 50% of the total cost. Successful candidates will be awarded two Ph.D. degrees in the selected area of engineering, one awarded by Carnegie Mellon University and one awarded by Howard University.
This partnership follows a comprehensive visit from the Dean and Associate Dean of CMU's College of Engineering earlier this year. Dean Messac and his team will return the visit with a planned trip to CMU's College of Engineering in mid-July.
This exciting development for both colleges will provide excellent opportunities to underrepresented students in obtaining their Ph.D.'s in any area of engineering available within the programs offered by CEA or CMU. In addition to the dual degree Ph.D. program, CEA will be collaborating with CMU on a broad range of initiatives, including the Bridge program, sponsored research projects and other envisioned initiatives.
The Bridge program provides the opportunity for GEM-eligible undergraduates to engage in research at the other institution over the summer. Through the Bridge program, students will also be coached to enable their transition to the dual degree Ph.D. program and will participate in professional development programs that may extend into the academic year.
The sponsored research projects are expected to lead to collaborative research and more joint faculty advising. CEA and CMU faculty will then have ample opportunities to submit joint grant proposals, enhancing research initiatives for both colleges and producing graduates of the highest quality who will have the tools to succeed in demanding settings of the 21st century.
"The clear opportunities presented by this new CEA-CMU Partnership constitute yet another outstanding example of what we can and will continue to accomplish as a college. Our advancement of 66 points in U.S. News rankings was just the beginning!" Dean Messac expressed.
We look forward to working with CMU for many years to come. The future is bright!
Categories
College of Engineering and Architecture