CEA Women Faculty Doubles, While Women Assistant Professors Quadruple
September 24, 2018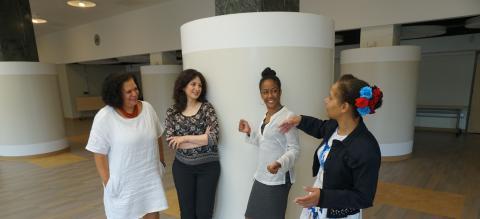 The percentage of women faculty in the College of Engineering and Architecture (CEA) has doubled since 2015. The percentage of women assistant professors has quadrupled.
"This impressive growth is in keeping with President Frederick's priority on gender equity across the University. I am truly delighted that our pertinent strategic efforts are paying off. Our quadrupling of women assistant professors and concomitant doubling of women faculty played a significant role in our increased levels of scholarly performance as well as our historic 66-point increase in national US News ranking," expressed Dean Messac.
This positive trend welcomes more brilliant minds into the fields of engineering and architecture, fully supporting the transforming face of our college – one that is more gender diverse. We also hired our first-ever woman architecture department chair.
Chemical Engineering Assistant Professor Solmaz Tabtabaei, Ph.D., shares her thoughts on this historic growth, "I am so excited to see that the number of women faculty in CEA is doubled. We are actively participating in research and curriculum development activities to further advance students' academic performance. We can encourage and inspire our young women students to excel in any engineering field or to enter this profession. This will definitely be beneficial at the national level, as engineering disciplines reinforce high-level math and science, promote fundamental research and technology applications, and teach problem-solving and creative design skills; thus preparing our women students to effectively face future technical challenges."
Dr. Tabtabaei wants young women engineers to "be confident and never underestimate the value of teamwork and communication skills." She also advises them "to find role models and mentors during the very early stages of their careers and to become role models as they are developing their careers."
Architecture Department Chair Hazel Ruth Edwards, Ph.D., who joined us in 2016, is pleased that there are so many women scholars in our college who can contribute to reimagining our pedagogy to embrace the inherent interrelatedness of our academic programs. Dr. Edwards also says that "it is extremely important to have women scholars who serve as role models for our growing numbers of young, aspiring and talented women engineers and architects."
Dr. Edwards leads the launch of our new Master of Architecture (M.Arch.) program this fall "to favorably position our program in the very competitive field of Architecture education; locally, regionally and nationally." Dean Messac adds, "In the Architecture Department, which just received the maximum eight-year accreditation extension, the percentage of women faculty increased from 0% to 44% since 2015. Our Architecture first-year enrollment has recently experienced an increase of over four-hundred percent."
Categories
College of Engineering and Architecture