Computer Science Professor Legand Burge Leads $15M NIH Initiative to Promote Diversity in AI and Machine Learning Fields
February 14, 2022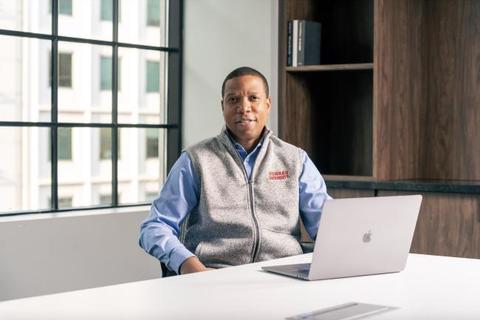 From the Dig (formerly the Howard Newsroom):
Howard University has been selected to lead the $15 million data science training core of the National Institutes of Health-backed consortium that seeks to close diversity gaps in the artificial intelligence and machine learning fields. Howard computer scientist Legand Burge III, Ph.D., will participate as principal investigator of the data science training aspects of the initiative.  
"With this project, Howard University aims to develop, expand and strengthen education programs at the certificate, undergraduate, graduate and professional levels within the artificial intelligence and machine learning fields," Burge said. "The goal is to train a new generation of minority and underrepresented populations of future researchers and practitioners. 
The NIH recently established the Artificial Intelligence/Machine Learning Consortium to Advance Health Equity and Researcher Diversity, or AIM-AHEAD, program. The consortium will be led by the University of North Texas Health Science Center. In the consortium, Burge will work alongside other experts in community engagement, artificial intelligence/machine learning (AI/ML), health equity research, data science training, and data infrastructure. 
According to the NIH, research gaps in the AI/ML field pose a risk of creating and continuing harmful biases in how AI/ML is used, how algorithms are developed and trained, and how findings are interpreted. These gaps can lead to continued health disparities and inequities for underrepresented communities. 
"The NIH grant, to be led by Dr. Burge, with its focus on health equity and researcher diversity, will enable Howard to sustain this focus under the broad umbrella of our institutional mission, research purpose and core values – to drive change and engage in scholarship that provides solutions to contemporary global problems," said Bruce A. Jones, vice president for research at Howard University.  
Burge is professor and past chairman of the Department of Computer Science at Howard University. While his primary research interest is in distributed computing, computer education and diversity has also been a major focus. For example, Burge is currently working with the Howard University Medical School's RCMI Center to utilize historical medical data to develop medicine tools to manage, detect and prevent chronic diseases that affect African-Americans. The lack of diversity in research related to the AI/ML field and electronic health records was listed by the NIH as an area where diversity gaps exist. 
Categories
Research, College of Engineering and Architecture and Electrical Engineering and Computer Science