DDOT Awards $3.75M for Traffic Research and Analysis
January 29, 2019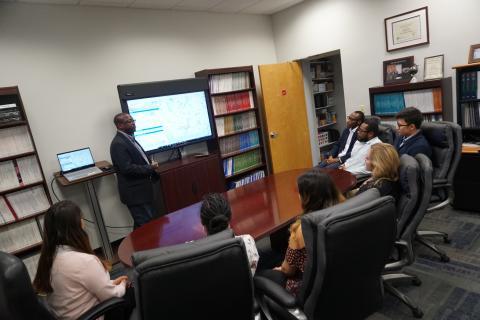 The District Department of Transportation (DDOT) has awarded a five-year grant of $3,750,000 to Civil and Environmental Engineering Associate Professor and Howard University Transportation Research Center (HUTRC) Director Stephen Arhin to conduct various traffic studies, traffic safety improvements and crash data analysis for the District of Columbia (DC) as part of the city's Vision Zero Initiative.
Under this initiative, Dr. Arhin will lead his team at HUTRC to obtain, manage and analyze traffic crash data for DDOT, conduct research on DDOT's Connected Vehicles Initiative, conduct traffic calming and safety studies within the DC area, and develop strategies to improve the flow of several modes of local traffic.
This award will involve the training and education of Howard University's undergraduate and graduate engineering students while enhancing their research experience in the College of Engineering and Architecture. The outcome of the studies and research conducted under this award will be incorporated into classes and innovative seminars/workshops, as well as expose students to real-world engineering problems.
Dr. Arhin adds, "This multi-year award presents an opportunity for Howard University's Transportation Safety Research Center to continue its work of supporting DDOT to improve safety in the city and implement safety programs based on traditional engineering practices, innovation, and data analytics. It also presents an opportunity for students to be engaged in solving real-world problems through data collection and analysis, field observations, and systems integration."
Dr. Arhin holds a Sc.D. in transportation safety engineering from George Washington University, a M.Eng. in transportation engineering from Howard University, and a B.Sc. in civil and environmental engineering from the University of Science & Technology in Ghana. He is also a registered Professional Engineer (P.E.) in DC, MD and VA, a Professional Traffic Operations Engineer (PTOE), a Project Management Professional (PMP), and a Certified Research Administrator (CRA).
Categories
Civil and Environmental Engineering