Department of Chemical Engineering and IPS-Integrated Project Services Collaborate to Bring Pharmaceutical Industry Design to the College of Engineering and Architecture
April 30, 2021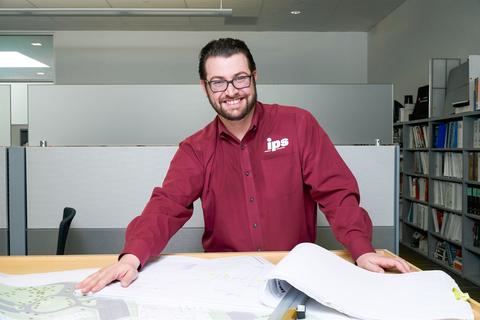 Within the pharmaceutical industry it is customary for the design of large projects to be divided into phases that correspond to levels of estimates and schedule details. In general, these phases are commonly referred to as conceptual design, basis of design and detailed design. These phases of design allow both clients and engineers to understand what the requirements are to complete a design that can be labeled "Issued for Construction" or IFC. These projects are multidisciplinary in nature and may involve life sciences, architecture, electrical engineering, mechanical engineering, and of course, chemical engineering principles.
This year, the Department of Chemical Engineering, in collaboration with IPS-Integrated Project Services, was able to offer a unique multidisciplinary course titled Biopharmaceutical Facility Design. The course was open to juniors, seniors and graduate students in the College of Engineering and Architecture. Theodore (Ted) Cohen, a Project Manager at IPS, was able to join our department as an adjunct lecturer in chemical engineering and served as the lead instructor for the course. Cohen holds a Bachelor of Science in chemical engineering and a Master of Engineering Management from Rowan University.
"I am incredibly proud of IPS and our employees' support to the prestigious academic institution that is Howard University," stated Mark Butler, IPS President and Managing Director-Americas. "We are committed to the value of diversity, equity, and inclusion for all individuals to thrive and to create a lasting impact on our industry. We need bright, talented professionals to fill an increasing gap in the engineering sector, particularly chemical engineering in the life sciences. By connecting underrepresented students with industry professionals, providing visibility and awareness of career opportunities, we can serve as a catalyst for long overdue changes to our industry."
To teach a comprehensive course on the design, architecture, and management of compliant biotechnological and pharmaceutical facilities, Cohen was assisted by several industry professionals. Carl Sexton, Director of Process Architecture at IPS, instructed the students on facility design. Sexton is an experienced process architect who specializes on strategic master planning, conceptual design, and regulatory guidelines to design biopharmaceutical facilities. He holds a Bachelor of Architecture from Drexel University. Jason Neal, Lead Mechanical Engineer at IPS, instructed students on the key features and design of HVAC systems in order to ensure proper clean room design and compliance. He holds a Bachelor of Science in Mechanical Engineering Technology from Temple University. Lastly, Vince Cebular, Senior Vice President of Compliance Services at IPS, taught students some of the core concepts of regulatory requirements and how those key concepts impact the design of complex facilities. Vince holds a Bachelor of Science in Chemical Engineering from Grove City College and a Master of Business Administration from Widener University.
"Our students' class presentations were attended by several life science and pharmaceutical industry professionals such as Creighton Potochnick, Director of Technical Engineering, Commissioning, and Qualification at Sanofi Pasteur; Jeff Bradley, Engineering Consultant at Eli Lilly; Dan Davis, Process Engineer at Skellig Automation; and Tia Lyles-Williams, the founder and CEO of Lucas Pye BIO (LPB) and HelaPlex. Lyles-Williams pointed out to our students that the course clearly placed them ahead of their peers and other college graduates as similar courses didn't exist when she graduated with her B.S. in biology from Howard University," said Dr. Ymele-Leki, interim-chair of the Department of Chemical Engineering.
(Pictured: Ted Cohen, adjunct lecturer in chemical engineering)
Categories
Chemical Engineering and College of Engineering and Architecture