Dr. Stacey Dixon Confirmed 2018 Spring Ceremony Keynote Speaker
April 17, 2018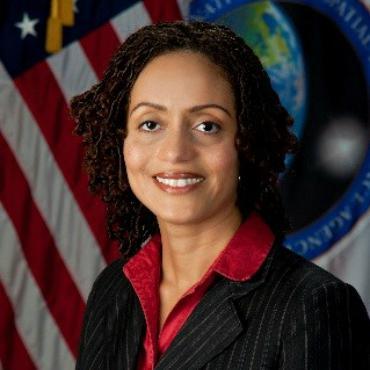 Dr. Stacey Dixon, Deputy Director of Intelligence Advanced Research Projects Activity (IARPA), will be the 2018 CEA Recognition and Awards Ceremony Keynote Speaker. The 2018 CEA Recognition and Awards Ceremony will be held in the Cramton Auditorium at 6:00 p.m. on Friday, May 11, 2018.
The Office of the Director of National Intelligence recognizes Dr. Stacey Dixon as Champion of Innovation:
Dr. Stacey Dixon has spent her career championing change and innovation in the Intelligence Community (IC). Her unique career path includes science-focused leadership positions at the National Reconnaissance Office (NRO) and National Geospatial-Intelligence Agency (NGA) as well as jobs supporting IC oversight committees on Capitol Hill. Her current role, as Deputy Director of the Intelligence Advanced Research Projects Activity (IARPA), allows her to combine her passion for science with well-honed managerial skills to help advance technology and tradecraft that benefits the entire IC.

Stacey credits her success to a philosophy that includes saying yes to new opportunities more than she says no, doing consistently good work wherever she is, and trying to learn a little bit every day. She also acknowledges the supportive managers and colleagues she's had throughout her career as well as the network of contacts she's developed along the way.

Stacey notes that employees and innovation both thrive in workplaces that encourage creativity, where leadership is supportive and people like coming to work—both because they like their colleagues and because they know they are working on something critical to broader mission success. She makes a concerted effort to create that type of welcoming environment wherever she is.

The way Stacey has approached her work in many ways mirrors how the Intelligence Community increasingly approaches research, innovation, and even workplace culture. In the past, IC elements were siloed, with each organization working on projects to benefit only its own workstream or type of intelligence collection and production. Budget allocations and the need to protect sensitive tradecraft methodologies or technologies didn't encourage larger projects or interagency collaboration, even for groups with overlapping missions. These small-scale, small-risk projects did bear fruit, but their impact was generally limited only to the sponsoring organization, not the broader IC. This resulted in incremental innovation and change as well as, in some cases, duplication of effort.

Stacey firmly believes that in order to succeed, innovators need five things: resources, time, support from leadership and colleagues, space to take risks, and space to fail. The IC is increasingly providing those to its workforce, to meet the challenges of today and keep the nation safe into the future.
We are honored to have Dr. Stacey Dixon as our 2018 CEA Recognition and Awards Ceremony Keynote Speaker.
Categories
College of Engineering and Architecture