Highlights from Our 2018 Recognition and Awards Ceremony
May 15, 2018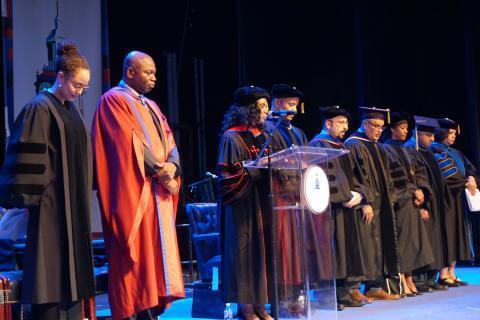 Days before our CEA Recognition and Awards Ceremony, campus grounds were buzzing with the excitement of family members anticipating the moment that their graduates would walk the stage. Staff and faculty were equally excited!
Director of Student Services Caryn Cabaniss kicked off the ceremony by welcoming everyone and acknowledging the hard work and perseverance of our graduates that contributed to this milestone in their lives.
Our esteemed keynote speaker, IARPA Deputy Director Dr. Stacey Dixon, inspired us with her tales of experience from her undergraduate years to becoming a successful engineer and innovator in the Intelligence Community. Her challenging rise to the top as a minority female engineer only attributed to her profound strengths and accomplishments.
Dr. Dixon was delighted to speak to an audience of fellow engineers. Her repeated unforgettable advice to just "be great!" resonated deeply with us.
Dean Messac reminded us of how great this year was as we advanced 66 points in national ranking! He expressed gratitude to all: graduates, staff, faculty, and especially parents.
Our final speaker, student speaker Breyonna Pinkney, wowed us with her amazing and heartfelt story, a story to be remembered!
Graduates and their families joined us for a reception, transporting the joy and excitement from the brimming Cramton Auditorium to our very own Maker Space.
Families had an excellent opportunity to mingle, chat with faculty, and view their graduates' capstone projects.
Congratulations, Class of 2018! Stay in touch!
Categories
College of Engineering and Architecture