Honoring our Alumnae and Leaders Hazel R. Edwards and Kimberly L. Jones this Women's History Month
March 26, 2021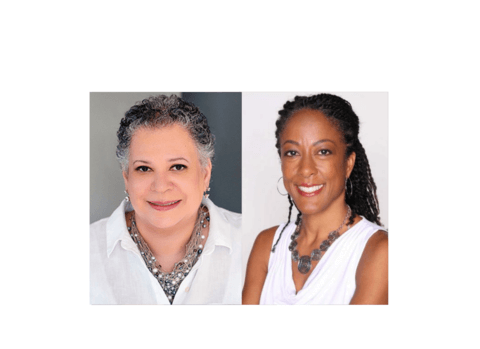 This Women's History Month we honor and share the stories of two alumnae who are dedicated College of Engineering and Architecture leaders, Hazel R. Edwards, Ph.D. and Kimberly L. Jones, Ph.D.
Department of Architecture Chair Hazel R. Edwards, Ph.D., FAICP (B. Arch. '86) made history when she became the first female architecture department chair at Howard University (HU) in 2016. Dr. Edwards comes from a family of historically black college and university (HBCU) alumni, faculty and administrators. Both of her parents obtained their undergraduate degrees from and then taught at several HBCUs after receiving their Ph.D.s. At HU, her mother served as dean for three different colleges before she retired. Her father retired from the National Science Foundation after twenty-nine years of making research contributions.
As a child, Dr. Edwards was always building things with her father. She would build doll houses with books after drawing the floor plans and recalls that she had thoroughly grasped the concept of spatial relationships in her early years. Listening to her father tell stories of his father inspired her passion for architecture. Her grandfather Gaston Alonzo Edwards was the first Black architect to be licensed to practice architecture in the state of North Carolina. That was in the year 1915. As for her passion for urban planning, living in India for a short period during her early years helped develop her current views on urbanism and disparities in quality of life.
Now what better school to select than HU to pursue her B.Arch.?
It only seemed natural that she would attend HU to pursue her Bachelor of Architecture (B.Arch.). Her fondest memories as a student at HU are from the design studios. The friendships she built during the time spent in the design studios have lasted over thirty years. After graduating from the B.Arch. program, Dr. Edwards worked for Bryant & Bryant Architects, Planners and Engineers, a multi-disciplinary firm of forty practitioners led by two HU alumni. At the firm, a landscape architect and fresh Harvard University graduate encouraged her to apply for graduate studies at Harvard University. Following her graduation from Harvard University with a Master of Architecture in Urban Design, Dr. Edwards went on to become the first black recipient of a Ph.D. in regional planning at the University of Illinois at Urbana-Champaign. She was also the first Carolina Minority Postdoctoral Scholar in the Department of Urban and Regional Planning at The University of North Carolina at Chapel Hill.
An offer to conduct research on the historical physical development of the HU campus as a reference for the upcoming Campus Plan is what initially brought Dr. Edwards back to HU. After seven months of research, what was a technical paper at first became The Long Walk: The Placemaking Legacy of Howard University which she co-authored with former dean of the School of Architecture and Planning, Alumnus Harry G. Robinson III. She was then hired as Special Assistant for Campus Planning and Development. In that role, she developed and managed projects such as the Founders Walk, the donor brick project between the Social Work building and the A-Building.
Her teaching career began with Morgan State University and then transitioned to the Catholic University of America where she became the founding director for the Master of City and Regional Planning program, and later for the Bachelor of City and Regional Studies. She returned once again to HU in 2016 becoming the first female architecture department chair. Dr. Edwards believes that the wide range of experience she accumulated from the time she graduated in 1986 fully prepared her to give back to students and serve as a role model. At one point in her career, she was only one of five African American women who were tenured professors in planning programs across the United States.
And her best advice to women pursuing architecture degrees?
"Brand yourselves to stand out and above the competition. Build your network while you are creating your portfolios and resumes that will catch a recruiter's attention. More importantly, architecture is about storytelling, of places and of people. In my opinion, architecture students must be able to represent that story in a written and spoken narrative as well as graphically.
"Additionally, the architecture profession is still very white male oriented.  Many women have unfortunately had the experience of being mistaken for the secretary or someone other than the licensed architect and project lead.  Women represent 50 percent or more of architecture students but their rise to leadership roles in firms is still challenged."
 
Department of Civil and Environmental Engineering Chair Kimberly L. Jones, Ph.D. (BSCE '90) is in our spotlight as an alumna who serves and leads her alma mater in various leadership roles. Dr. Jones also serves as Associate Dean for Research and Graduate Education for the College of Engineering and Architecture.
From her early years, Dr. Jones always loved building things, especially with her father. As a child, she would build and design cities for her dolls. Her entire bedroom was transformed into apartment buildings. Her father was a contractor and her mother was a teacher, which was the foundation for her passion for building things and achieving academic excellence. Her love for math, science, architecture and design led her to select civil engineering as her academic path, but her original dream of designing bridges was disrupted by a higher purpose. During a college internship, Dr. Jones learned about environmental racism and decided to focus on environmental engineering. "I wanted to have the technical expertise that would allow me to directly help communities of color when dealing with environmental issues," she says.
Now what better school to select than HU to pursue her BSCE?
Dr. Jones has many fond memories of her days as a student at HU. She remembers the study circles with her peers. They would study at all hours of the day and night in L.K. Downing Hall. The students in the civil engineering program worked together as a team, studying together until everyone felt prepared for what lay ahead. Her HU days involved more than just studying, though. Dr. Jones was an active member of several student organizations, such as the HU DC Alpha Chapter of Tau Beta Pi, the engineering honor society, for which she served as vice president and the HU chapter of the American Society of Civil Engineers, for which she served as president. She was also in the marching band and a member of Delta Sigma Theta Sorority, Inc. She "definitely took advantage of the many enriching opportunities at HU," she says. In her senior year, she was encouraged to pursue a Ph.D. by Dr. James Johnson, then chair of the Department of Civil Engineering.
After she graduated with her Bachelor of Science in Civil Engineering, Dr. Jones completed an internship at CH2M Hill, after which she attended the University of Illinois – Urbana Champaign to complete her master's degree and then the Johns Hopkins University to complete her Ph.D.  While pursuing her Ph.D., she benefitted from a network of peers – fellow HU engineering classmates who were also pursuing Ph.D.s at various universities. They supported and motivated each other to the finish line.
Of course, Dr. Jones had a job offer in industry when she graduated with her Ph.D., but she decided to return to her alma mater to teach. She wanted to invest in HU students in the same way her professors had invested in her with their time, support and confidence. "As a Black woman engineer, I also wanted to serve as a role model for other Black women, who remain grossly underrepresented in engineering at all levels," she adds.
And her best advice to women pursuing engineering degrees?
"Stay focused on your goal of earning an engineering degree. Although women make fantastic engineers, most female engineers have experienced times where their contributions were overlooked or minimized, while a male engineer with similar or lesser contributions was celebrated. In those times, it's very important to remain confident in your skills and persist towards your goals.
"Also, don't travel your path alone. Always engage with a network of peers and mentors to help guide you through."
(Pictured: Dr. Hazel R. Edwards [left] and Dr. Kimberly L. Jones [right])
Categories
Alumni, Architecture, Civil and Environmental Engineering and College of Engineering and Architecture