Howard University Architecture Alumna and Professor Hazel Ruth Edwards Delivers TEDx Talk on Black Voices in Architecture
September 22, 2022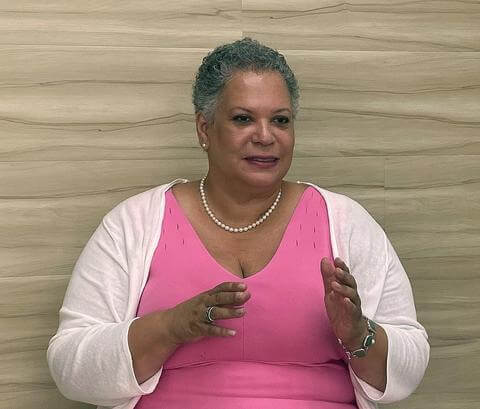 Howard University architecture alumna, professor and former chair of the Department of Architecture Hazel Ruth Edwards, Ph.D., FAICP (B.Arch. '86) was an invited speaker at a local, independently organized TED event, the TEDxPearlStreet event Mavericks & Moonshots, this past summer.
The theme was developed around the pressing need for moonshots, translated as bold innovations that work to address and develop solutions for outstanding global issues such as climate change and human rights violations.
A later recording of her talk, "Why we need more black voices in architecture", brought the viewers to the Howard University campus, which she refers to as her work-home.  
Edwards' personal connection with architecture has been closely intertwined with the lack of diversity in the profession. She shared how her late grandfather, Gaston Alonzo Edwards, the first Negro architect licensed to practice architecture in North Carolina in 1915, had influenced her decision to study architecture at Howard University.
At Howard University she met Norma Sklarek, the first black woman licensed to practice architecture in New York and in California and the first Black woman to be elevated to the College of Fellows of the American Institute of Architects (FAIA).  During this brief encounter at the 1983 conference on Minority Women in Architecture, Norma inspired her design journey which prompted Edwards to work to inspire other minority architects.
The reality of the profession according to the National Council of Architectural Registration Boards is that only two percent of architects licensed to practice in the United States are Black.  In 2021, only 0.4 percent of the 122,000 licensed architects or 553 Black women were licensed architects.
"In college, I met Black architects like Norma Sklarek who were transforming the world — that's just one way the seven HBCU architecture programs play that important role — giving students the skills to dream the bigger dream and expose them to successful people who look, think, and feel like they do. That makes their dreams seem reachable as it did for me. Norma blazed a trail that let Black women know that there was a place for them in the field of architecture," said Edwards.
Passionate about teaching and preparing young people of color to go into the world to explore their creative pursuits, Edwards has spent much of her career teaching in architecture and city planning programs where she would have the most impact. What she is most proud of is that she has helped her students understand how impactful they can be as future licensed architects and certified planners.
Watch the inspiring talk on YouTube.
Categories
Alumni, Architecture and College of Engineering and Architecture