Howard University Chemical Engineering Seniors Receive 2022 NCS Outstanding Student Award
January 18, 2023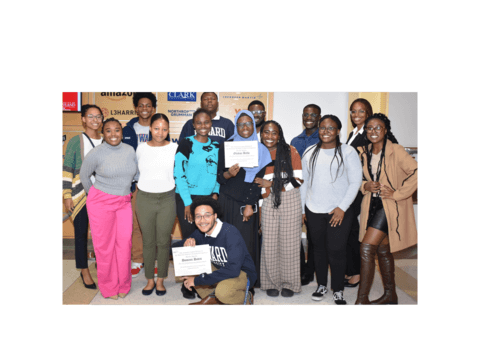 Howard University chemical engineering seniors Olabisi Bello and Dominic Davis recently received the American Institute of Chemical Engineers (AIChE) National Capital Section's (NCS) 2022 NCS Outstanding Student Award. The award recognizes students who exhibit outstanding academic achievements and potential in their chosen fields and who demonstrate a strong commitment to service to their department and/or to the chemical engineering profession. 
For over 20 years, AIChE-NCS has presented an annual award that recognizes outstanding chemical engineering students from both Howard University and the University of Maryland. Students are recognized by their department faculty for their exemplary academic accomplishments and community contributions. 
Howard University students were presented their awards by Patrick Ymele-Leki, Ph.D., interim chair of the Howard University Department of Chemical Engineering and longtime advisory board member of the NCS Executive Committee. 
Well-attended by professional chemical engineers from around the DC metropolitan area, students from Howard University (pictured) and University of Maryland, as well as faculty from both institutions, the Fall 2022 event took place at University of Maryland College Park. Ayobami Ogundiran, a Howard University chemical engineering graduate student and member of the NCS Executive Committee served as a panelist at the event.  
Howard University chemical engineering faculty members Solmaz Tabtabaei, Ph.D. and Ramesh Chawla, Ph.D. also served as panelists to help facilitate meaningful discussion between students, faculty and professional chemical engineers. 
The 2023 NCS award ceremony will be hosted by the Department of Chemical Engineering at Howard University in Fall 2023. 
Pictured: 
2022 NCS Outstanding Student Award Howard University recipients Olabisi Bello (top) and Dominic Davis (bottom) with student attendees.
Categories
Chemical Engineering and College of Engineering and Architecture