Howard University Department of Civil and Environmental Engineering Graduates First Ph.D. Recipient
December 6, 2022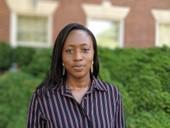 The Howard University Department of Civil and Environmental Engineering has awarded its first doctoral degree to Rahil Fofana.
A native of Côte d'Ivoire or the Ivory Coast, Fofana joined Howard University in Spring of 2018 as a doctoral student. Fofana's research focus was on advanced treatment of nitrogen from wastewater treatment, which reduces the amount of nitrogen in waterbodies and its threat to the environment and public health. She worked with Blue Plains Advanced Treatment Plant in Washington D.C., to study an emerging polishing technology to reduce the cost and efficiency of wastewater treatment, especially in regions where there is stringent treatment.
Co-advised by Kimberly L. Jones, Ph.D., professor of civil and environmental engineering and former department chair, and Jeseth Delgado Vela, Ph.D., assistant professor of civil and environmental engineering, Fofana conducted lab, pilot and full-scale research, and published three peer-reviewed journal articles as a Ph.D. student. She presented at several national conferences and won a best presentation award at the International Water Association Biofilms 2020 Virtual Conference.
"Rahil's work exemplifies the research at Howard that leverages local partners to have national impact. There is so much industry interest in her research and we hope the treatment process she developed will be implemented at the full scale at Blue Plains very soon." said Delgado Vela.
Fofana accepted a position with DC Water as a Process Engineer starting Fall 2022.
Categories
Research, Civil and Environmental Engineering and College of Engineering and Architecture