Howard University Engineering Students Awarded Prestigious Tau Beta Pi Scholarships
November 2, 2022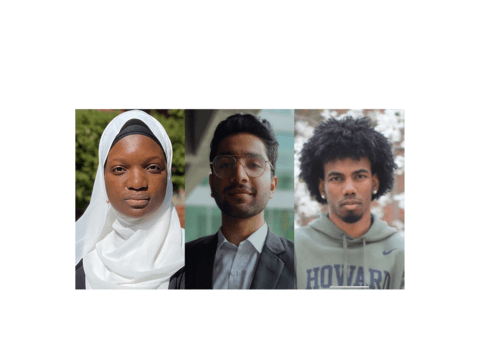 Howard University chemical engineering senior Olabisi Bello, mechanical engineering senior Yaman Siwakoti and computer science senior Deante Taylor recently received prestigious Tau Beta Pi scholarships for the 2022-2023 academic year. Scholarships are awarded annually by Tau Beta Pi, the national engineering honor society, to junior members on a competitive basis of high scholarship, campus leadership and service, and promise of future contributions to the engineering profession.
Featured in the society's recent press release, Bello currently serves as the executive president for the CEA Student Council. In this role, she has already made significant impacts by rebranding and recruiting a larger student council body over the summer to enhance student support.
This academic year, Bello also transitioned from her role as president for the Howard University chapter of the Society of Women Engineers (HU-SWE) (Spring 2020-Spring 2022) to serve in a higher-level role as the collegiate engagement lead for the SWE African American Affinity Group where her focus is to engage and support all SWE HBCU collegiate chapters.
Siwakoti has been serving as the co-president of the Howard University chapter of the American Society of Mechanical Engineers (HU-ASME) since Summer 2022 and is actively involved in the ASME Northeast Student Regional Team for North America, which is an organization that conducts and coordinates activities for all universities in the northeast region. He also serves as the current deputy secretary of the Howard University Robotics Organization, which aims to increase confidence among young and aspiring black engineers.
President and founder of the Howard University Esports Association (HU Esports), Taylor has a clear goal to increase the number of minorities in the esports space. Through his efforts, HU Esports has been at the forefront of the HBCU Esports world resulting in partnerships with companies like Nike, Microsoft and Verizon and major wins, such as winning Mid-Eastern Athletic Conference Esports crowns in three games for the 2022 Spring season.
Tau Beta Pi is the world's largest engineering honor society.  Membership represents the highest honor to be obtained by an engineering student and is awarded based on high scholarship and exemplary character.
Categories
Chemical Engineering, College of Engineering and Architecture, Electrical Engineering and Computer Science and Mechanical Engineering