Howard University Master of Architecture Program Awarded DoE New Zero Energy Design Designation
September 28, 2022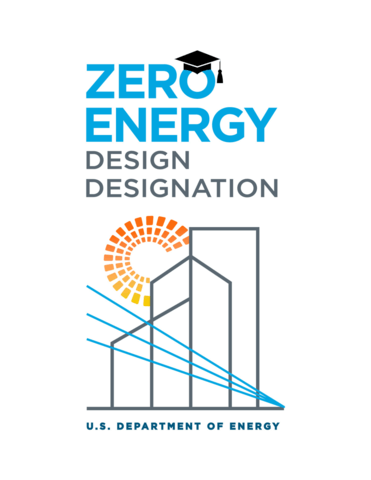 The U.S. Department of Energy's (DOE) Office of Energy Efficiency and Renewable Energy awarded its first-ever Zero Energy Design Designation (ZEDD) seal of recognition to Howard University for its master of architecture program with an equitable high-performance energy design concentration.
Earned by only 12 collegiate institutions worldwide, this inaugural designation distinguishes post-secondary academic programs that impart the best practices of zero-energy design on students and require them to apply those building science concepts in actual projects. These leading educational programs are recognized by the DOE for preparing tomorrow's architectural and engineering leaders to design and build the most sustainable buildings possible.
Howard University architecture lecturer Nea Maloo, AIA, initiated the designation through her development of a new interdisciplinary course to teach the critical skills needed for sustainable design, climate change mitigation and equitable development. The course, Equitable High-Performance Buildings, will be offered beginning in Spring 2023.
The ZEDD Program supports the Biden-Harris Administration's goal of a net-zero emissions economy by 2050. With buildings being one of the main contributors to carbon emissions, building professionals must be trained to design and construct high-efficiency, low-carbon buildings powered by renewables to achieve this goal.
"Our fight against climate change runs straight through our nation's buildings, and the forward-looking college and university programs we honored today are paving the way for students to lead our net-zero greenhouse gas emissions future," said Carolyn Snyder, deputy assistant secretary for energy efficiency. "Graduates of these programs will join the front lines of our fight against the climate crisis by designing sustainable buildings that bring the benefits of our clean energy future to all."
Offered to qualifying programs of study for 3 years, the DOE program requires graduating students to complete a building science education curriculum that uses DOE's Solar Decathlon Building Science Education learning modules or otherwise meets ZEDD's learning objectives. Students must also participate in a Zero Energy Design Practicum, either by completing the U.S. Department of Energy Solar Decathlon Design and/or Build Challenge or by engaging in a real-world zero-energy design project that would earn the DOE Zero Energy Ready Home certification or more stringent energy and environmental performance standard.
Categories
Architecture and College of Engineering and Architecture