Howard University Teams Win at the DOE Solar Decathlon 2023 Design Challenge
June 18, 2023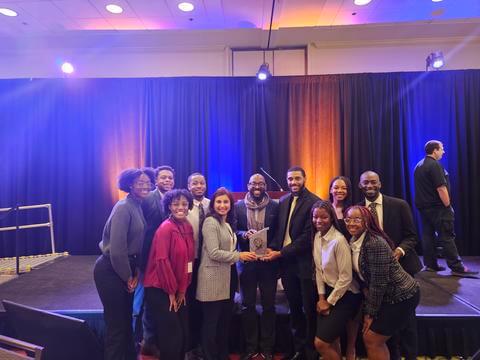 From The Dig:
The Howard University interdisciplinary teams Retro Booming and Team Revive successfully participated in the US Department of Energy's Solar Decathlon 2023 Design Challenge. The teams are comprised of 21 students from the architecture, clinical laboratory, engineering, environmental science, environmental studies, and sociology disciplines.
Nea Maloo, FAIA, Howard University architecture lecturer, served as faculty advisor for the teams. 
Retro Booming won third place in the retrofit housing division and Team Revive completed the finals. The Retro Booming team was selected as one of 57 finalist teams representing 44 global collegiate institutions.  Team members included architecture students El Adon Bey, Bianca Rochelle Briscoe, Darian Jacobs, Malik Johnson, Elijah McKinnie, and Ejovwokoghen Mushale, including clinical laboratory student Eman Munoz, and environmental studies students Sierra Gee, Beleil Lamb and Jayla Wade. Jacobs led the team to the win.  
The winning project focused on the revival of the Mary Church Terrell House with net zero strategies. Primarily centered around renovating the historic District of Columbia property purchased by Howard University in 2018, the team found this retrofit to be a perfect opportunity to open the property to the community for public use.  
With the intention of dedicating the space to ongoing social justice initiatives, exhibition areas will be created to display the remarkable historical accomplishments of Mary Church Terrell and other noted African American pioneers who resided in Le Droit Park Historic District where the property is located.  
"The teams addressed the importance of retrofitting historic buildings in both residential and commercial divisions. They worked in collaboration with other disciplines and produced a winning submission. They addressed climate change and embodied carbon and social justice in their design. I am very proud of the effort, perseverance, and team spirit they put into this competition," said Maloo.   
Recognized as one of 57 finalist teams, Howard's Team Revive included architecture students Nia Baptiste, Kai Dixon, Crystien Esters, Roshell Grant Wesley, Cameron Mack, Caden Norville, and Tynia Scott, civil engineering student Moriah Hamilton, environmental science student Davonte Douglas, environmental studies student Kennedy Wiliams, and sociology student Julius Dodson. Team Revive participated in the education division to retrofit the Myrtilla Miner Building.  
About the Myrtilla Miner Building  
The Myrtilla Miner Building is listed in the National Register of Historic Places for its significant role in Black education in Washington, D.C. Located on Howard University's central campus, the building was purchased by Howard University in 1997 and has partially housed offices for the Howard University School of Education staff. The building will undergo major renovations as part of Howard University's initial $785 million investment to accelerate its Central Campus Master Plan in support of the Howard Forward 2024 Strategic Plan. The renovated Miner Building will be a shared space that supports interdisciplinary teaching and learning between the Howard University School of Education and the Howard University School of Mathematics and Science.   
About the Solar Decathlon Design Challenge  
Teams competing in the Solar Decathlon Design Challenge work in multidisciplinary teams, and optionally with a Design Partner, for one or two academic semesters to prepare creative solutions for real-world issues in the building industry. The competition culminates in the Solar Decathlon Competition Event, where student teams present their designs to a panel of industry experts, discuss design strategies with peers, learn from thought leaders, and connect with industry partners through unique networking opportunities. Winning teams are recognized with awards on the international stage and winning design projects are also posted on the Solar Decathlon website. Through the vast global Solar Decathlon network, this high-profile competition provides national exposure and recognition for successful teams and collegiate institutions.   
The Solar Decathlon Design Challenge continues to build a global community of current and future professionals dedicated to providing solutions to complex problems related to climate change, affordability, and environmental justice through building design.  
Categories
Architecture and College of Engineering and Architecture