Howard University Welcomes Expert Engineer for Google In Residence Program
October 2, 2023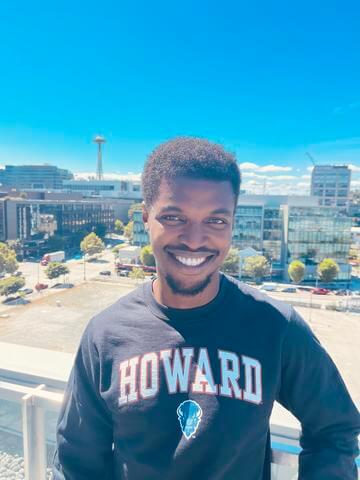 From The Dig:
WASHINGTON — Google is celebrating the tenth anniversary of its Google in Residence (GIR) program alongside 14 Googlers in residence and their partnering institutions, including Abenezer Dara, who provides valuable expertise to Howard University's Department of Electrical Engineering and Computer Science. Dara will provide students with the skills needed to enter the workforce, such as machine learning algorithms and software engineering.
"I'm immensely proud that we have positively impacted more than 8,000 HBCU and HSI students through our Google in Residence program over the last decade. We're passionately working to build equity for HBCU and HSI students to ensure they have the skills they need to succeed in tech when they graduate and to support greater diversity in the tech industry," said Melonie Parker, Google Chief Diversity Officer.
Launched in 2013, the Google in Residence program aims to support increased diversity in the tech industry through partnerships with computer science departments at Historically Black Colleges and Universities (HBCUs) and Hispanic Serving Institutions (HSIs) to ensure students can gain the skills needed to succeed in tech post-graduation. Experienced Googlers spend the fall semester on campus, teaching introductory computer science courses, where first-year students learn skills that are in demand in the tech industry, such as basic coding, debugging and simple data structures, along with career advice and job interview prep.
In its inaugural year, the program started with a single Googler leading a class of 83 students at a single university. A decade later, the program is offered at 14 HBCUs and HSIs across the country, serving more than 1,500 Black+, Latinx and Native+ students per year. Since its launch, the program has reached 8,000 students at HBCUs and HSIs. 
"Our partnership with Google via the GIR program continues to serve as a great avenue to bridge the apparent divide between academics and industry, infusing a fresh breath of air into the classroom setting and teaching pedagogy. Students have overwhelmingly expressed positive experiences and excitement having industry professionals in the classrooms imparting knowledge and sharpening skills that will stretch far beyond introductory classes and help students to identify and solidify their future career paths," said Ivory Berry, Ph.D., assistant dean for student affairs at the Howard University College of Engineering and Architecture.
Dara, who is on the YouTube Creator SRE team, is leading courses at Howard University where he will teach students introductory skills in computer programming and software development.
"I'm passionate about teaching and introducing people to computer science," Dara said. "As a teaching assistant for the introductory computer science class at my college for three years, I have found immense fulfillment. I look forward to continuing this work at Howard and providing my students with an excellent introduction to the field."
The full list of recognized Googlers in Residence and partnering institutions in the 10th anniversary cohort includes: 
Alabama A&M University: Joon Lee, Chaos Engineer, Catzilla 
California State Fullerton: Piyush Goyal, Software Engineer, Core Data Protection
Fisk University: Andrea Wu, Software Engineer, Firebase DevRel Products
Florida International University: Niki Zarkub, Software Engineer, Cloud AI Frontend
Hampton University: Josh McAdams, Software Engineer, Education Platforms
Howard University: Abenezer Dara, Software Engineer, YouTube Creator SRE 
Morehouse College: Utsav Lathia, Product Manager, Google Lens 
Morgan State University: Ibrahim Abdus-Sabur, Senior Software Engineer, Internal Tooling for Cloud
North Carolina A&T University: Alex Matute, Software Engineer, Google Compute Engine 
Prairie View A&M University: Donnell Debnam Jr., Software Engineer, Google Home App (GHA) 
Tennessee State University: Colin Kincaid, Software Engineer, Chromebook 
University of Puerto Rico, Mayaguez: Campbell Christiansen, Software Engineer, PeopleAPI Infrastructure 
University of Texas El Paso: Matthew Sit, Senior Software Engineer, YouTube
Xavier University of Louisiana: Julie Arenson, Software Engineer, Google Drive
To learn more about the Google in Residence program, please visit https://buildyourfuture.withgoogle.com/programs/googleinresidence. 
Categories
College of Engineering and Architecture and Electrical Engineering and Computer Science