Howard West: A First Step in Creating More Opportunities for African-American Engineers
May 30, 2018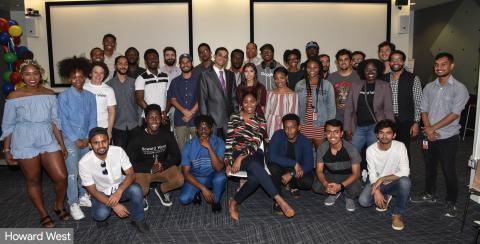 Howard West, an educational and career development initiative between Howard University and Google, Inc., is a first step in creating more opportunities for African-American engineers. Howard West, a vision of President Frederick, was realized in 2017 with a successful pilot program.
The 2017 summer pilot program provided twenty-six CEA students with the opportunity to enhance their technical knowledge and skills. CEA students Lauren Clayton and Alanna Walton were featured in the USA Today article. (Read the USA today article.)
We would like to join President Frederick in congratulating our fellow CEA faculty, students and staff.
President Frederick's congratulatory remarks:
Dear Howard University Community,

I am proud to announce that Howard West, the University's academic partnership with Google will expand to cover the full academic year beginning fall 2018. This announcement comes after a successful three-month pilot program during the Summer of 2017 at Google's Silicon Valley headquarters. Howard West is an extension of our commitment to producing industry-ready Black computer science graduates who will enter the workforce with the added invaluable knowledge gained by working alongside the leading experts at Google.

Howard West serves as the realization of a vision to expand Howard's presence to the West Coast. It is also a major step forward for Google's efforts to recruit and retain diverse technical talent. Howard West will prepare hundreds of industry-ready Black computer science graduates, future leaders with the power to transform the global technology space into a stronger, more accurate reflection of the world around us. In partnership with Google, we envisioned this program with bold outcomes in mind – to advance a strategy that leverages Howard's high-quality faculty and Google's expertise, while also rallying the tech industry and other thought leaders around the importance of diversity in business and the communities they serve. Howard West will provide another opportunity for Howard University to offer innovative, world-class learning experiences to its students, preparing them for work and leadership in the community.

In the pilot, 26 students participated in courses taught by Howard University faculty with the bonus of a Google engineer as an adjunct professor to simulate practical, real-world engineering challenges. Class subjects included Fundamentals of Algorithms, Software Engineering, Machine Learning, Technical Interview Prep and Intro to Mobile Applications. Upon completion of the pilot program, 14 rising Juniors applied for internships, and four received offers.

Howard and Google's longstanding partnership with the Google in Residence (GIR) program is the foundation for Howard West. Since GIR embeds Google engineers as faculty at Howard and other Historically Black Colleges and Universities (HBCUs), Howard West was a natural and logical next step. The program connects the geographical, academic and cultural divide between declaring a major in Computer Science and landing a job in tech.

Many Howard leadership and faculty helped make this program possible. I would like to extend many thanks to the excellent faculty and staff in the College of Engineering and Architecture, the Department of Computer Science, and the many others that tirelessly supported this effort.

Excellence in Truth and Service,

Wayne A. I. Frederick, M.D., MBA
President
Categories
Electrical Engineering and Computer Science