McFadden Wins Grand Prize at AT&T HBCU Innovation Challenge
November 25, 2020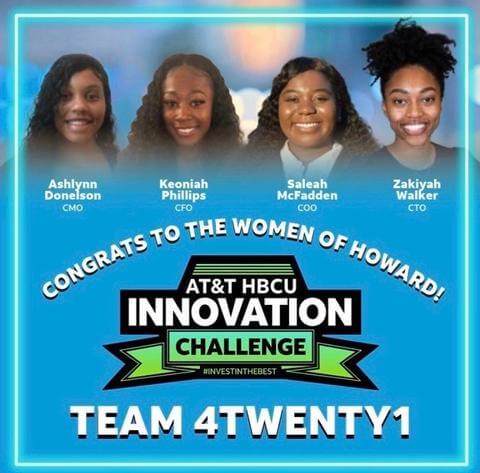 Mechanical engineering senior Saleah McFadden won the $50K grand prize at the AT&T HBCU Innovation Challenge along with Howard University (HU) School of Business team members, Ashlynn Donelson, Keoniah Phillips, and Zakiyah Walker. The HU winning team, 4twenty1, competed against 24 other student teams from across seventeen HBCUs. Four of the teams were from Howard University. The goal of the challenge was for students to use AT&T 5G bandwidth capacity to develop innovative solutions to help their communities that would have a social or monetary impact.
The team centered their efforts on replicating an actual business organizational framework that could be run under a corporation, as if they were working under AT&T. McFadden served as Chief Operations Officer, Donelson as Chief Marketing Officer, Phillips as Chief Financial Officer, and Walker as Chief Technology Officer. The winning project was their proposal for the creation of an online learning platform through which high school students would earn AT&T credit points redeemable for an AT&T 5G phone or hotspot service as they enhanced their skills in finance, marketing, computer science, and engineering.
McFadden and her team had a common goal prior to joining the challenge: to give back to their communities by increasing the educational opportunities available to underrepresented high school students. Their first step was to help these students enhance their knowledge-based skills. In particular, the team wanted to emphasize the importance of skills such as public speaking and financial literacy.
For this challenge, the team had a total of five weeks to organize their team, devise a project idea, formally present their idea, and create a prototype. The prototype was designed using Figma to display the workflow of the application. McFadden describes the duration of the challenge as "long nights and early mornings" and is grateful to their mentors for the challenge. The team was advised and mentored by HU School of Business Assistant Dean of Innovation and Administration Alison Bryant, Ph.D. Dr. Bryant also connected the team to additional mentors, HU School of Business Alumnus and Information Systems Department Advisory Board member Jason James from VMWare and his colleague Yves Fauser.
McFadden is also grateful to be an HU student. "Being an HU student played a large role in making the win because we have a diverse and expansive network and community at our disposal," she says. McFadden explains that she and Donelson lived near each other in South Carolina but didn't become acquainted until they connected at Howard University.
It is rewarding for McFadden to be a student at Howard University, she says, as she has benefited from the many opportunities that have been presented to her. McFadden was also one of six HU College of Engineering and Architecture students to be selected as a Forbes Under 30 Scholar for the Forbes Under 30 Summit.
And her best advice?
"I always say 'get comfortable with being uncomfortable', and I know it is a very common saying, but I live by it," says McFadden. "Always try. Always give it a shot. Be intentional. We saw ourselves as four black girls, in business, in tech, and in engineering, just trying to make a difference. This is what I call black girl magic."
Read the AT&T press release.
Categories
College of Engineering and Architecture and Mechanical Engineering