ME Chair Nadir Yilmaz Honored with SAE International Leadership Citation
July 7, 2020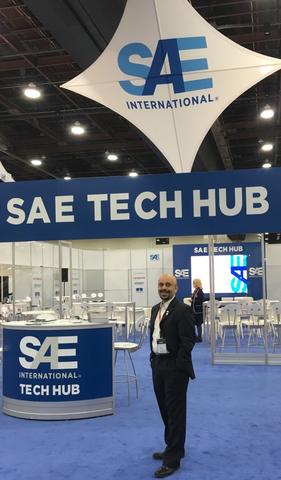 Department of Mechanical Engineering Chair and Professor Nadir Yilmaz, Ph.D., P.E., recently received the prestigious SAE International Leadership Citation from SAE International, formerly known as the Society of Automotive Engineers. The SAE International Leadership Citation provides public recognition to one individual annually who is internationally acknowledged for continuous professional involvement and participation in SAE programs and events worldwide. This individual also provides "unique assistance and support in helping SAE achieve its goals and objectives, through their leadership, generously giving of their time, and courageously implementing change to enhance the international activities of the Society" (SAE).
Dr. Yilmaz's commitment to SAE through his leadership roles and service domestically and abroad for numerous SAE initiatives has been continuously recognized by SAE. Dr. Yilmaz was selected by SAE as a Top Contributor in 2019 for his wide-ranging volunteer and engagement contributions. These contributions included serving as Chair of SAE International Education Board, Chair of the Washington DC Section of SAE, service to SAE ABET Relations, and fifteen years of service as a faculty advisor of SAE Student Chapters and SAE Collegiate Design Series (CDS) activities. Dr. Yilmaz has also served as the Editor-In-Chief for the SAE International Journal of Fuels and Lubricants for over a decade and has been successful in his efforts to include and promote the work of international scholars through SAE activities.
Dr. Yilmaz has campaigned for the establishment of a strong SAE presence in Turkey and facilitated a Memorandum of Understanding between Society of Automotive Engineers of Turkey (SAE Turkey) and SAE International for advancing SAE scholarly journals. He currently serves on the Board of Directors of SAE Turkey.
"Overall, my goal has always been to help SAE maintain its position as the mobility leader internationally, and so I am humbled and honored with this citation. It is a true testament to, and appreciation of, my efforts to advance the mobility industry through leadership, mentorship of a diverse group of young automotive and aerospace engineers, knowledge generation, dissemination and active engagement," says Dr. Yilmaz.
Dr. Yilmaz was recipient of the 2016 SAE International Excellence in Engineering Education (Triple E) Award, 2011 SAE Ralph R. Teetor Educational Award and 2013 & 2016 SAE Faculty Advisor Awards. He has also received awards from the American Society for Engineering Education, American Society of Mechanical Engineers (ASME) and National Society of Professional Engineers (NSPE), including the 2014 NSPE National Young Engineer of the Year Award, which is awarded to a professional engineer under the age of 35. Dr. Yilmaz was named a Fellow of SAE, ASME and NSPE in 2016.
Categories
Mechanical Engineering