Mechanical Engineering Alumna Aprille J. Ericsson Awarded ASME Ralph Coats Roe Medal and Honorary Doctorate
July 20, 2022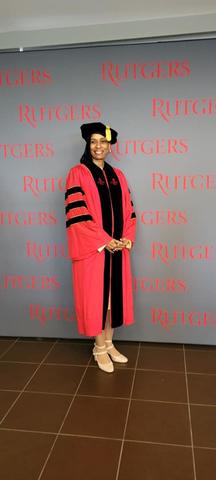 Howard University mechanical engineering alumna Aprille J. Ericsson (M. Eng. '90; Ph.D. '95) was recently awarded the Ralph Coats Roe Medal from the American Society of Mechanical Engineers (ASME).
The Ralph Coats Roe Medal was established in 1972 to recognize engineers who have made an outstanding contribution toward a better public understanding and appreciation of engineering and its impact on society.
"Thank you to ASME and the Roe family for maintaining such a long tradition in bestowing the Ralph Coates Roe Award. This award named in his honor is a very thoughtful and considerate acknowledgment of a list of prestigious honorees, recognizing their humanitarian efforts and engineering careers. To join such a list of honorees makes me want to pinch myself to make sure I am not dreaming," said Ericsson.
In over 30 years at the National Aeronautics and Space Administration (NASA), Ericsson has served in various paramount roles, including as acting chief technologist, project manager, deputy to the chief technologist for the Engineering and Technology Directorate, program executive for Earth Science, business executive for Space Science, and has led space flight mission teams for a period of ten years as instrument project manager.
Ericsson currently serves as the new business lead for the Instrument Systems and Technology Division for the NASA Goddard Space Flight Center, a role in which she facilitates the completion of important missions by connecting scientists and project managers with the instrument technologies they need. Another aspect of her role is developing and maintaining critical partnerships between government agencies, universities, industry and small businesses.
Her technical and managerial expertise has helped develop projects such as the James Webb Space Telescope, the Lunar Reconnaissance Orbiter, the Tropical Rainfall Measuring Mission, the Ice, Cloud, and Land Elevation Satellite-2, and the SCIM Mars mission.
Throughout her career, Ericsson has also used her expertise to mentor and help create opportunities for underrepresented high school and college students pursuing degrees in science, technology, engineering and math (STEM), a service she has always been passionate about. She has supported engineering students and young STEM professionals with her lectures and service on advisory boards for universities and STEM programs, and her review of NASA- and NSF-funded grant proposals. Ericsson currently serves as an advisor for engineering students at the Massachusetts Institute of Technology and Howard University.
Past Ralph Coats Roe Medal recipients include Shirley Ann Jackson, the first African American woman to earn a doctoral degree in nuclear physics from MIT, astrophysicist and author Carl Sagan, and William Sanford Nye, popularly known as Bill Nye the Science Guy.
Ericsson also recently received an honorary doctor of science degree from Rutgers University, for which she was cited for her plethora of accomplishments, including prestigious awards for her engineering, education and leadership work. She was also notably cited for being the first person of color to receive the Washington Award from the Western Society of Engineers, the first African American woman to receive a mechanical engineering doctoral degree from Howard University, and the first African American civil servant to receive an engineering doctoral degree at the NASA Goddard Space Flight Center.
"On behalf of the Department of Mechanical Engineering, I would like to congratulate our esteemed graduate and chair of the department advisory board, Dr. Ericsson, for her accomplishments. She is an exemplary leader in the scientific community, a strong advocate for STEM education and a role model and inspiration for the next generation of engineers and scientists to follow in her footsteps," said Nadir Yilmaz, Ph.D., PE, professor and chair of the Howard University Department of Mechanical Engineering.
Categories
Alumni, College of Engineering and Architecture and Mechanical Engineering