Mechanical Engineering Department Chair Nadir Yilmaz Named SAE International Fellow
February 6, 2018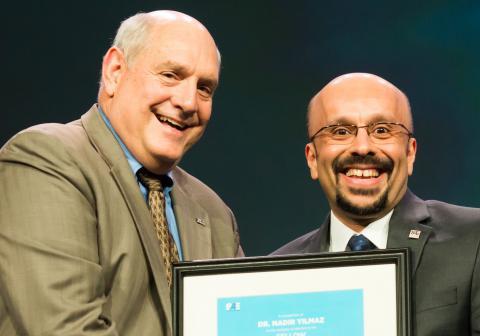 SAE International announced that Mechanical Engineering Department Chair Nadir Yilmaz was elected as a 2016-2017 SAE Fellow. Dr. Yilmaz was recognized during ceremonies at the WCX 17: SAE World Congress Experience in Detroit, Michigan on April 11, 2017.
The highest grade of membership, SAE Fellow recognizes and honors long-term members who have made a significant impact on society's mobility technology through leadership, research, and innovation. Established in 1975, the grade of Fellow is administered by the SAE Fellow Committee.
As an SAE Fellow, Dr. Yilmaz is recognized as a technical leader in alternative fuels and PAHs, in diesel engines. His research led to a paradigm shift in understanding root causes of the failure of 70% of U.S. Army diesel engines. Additionally, his service and dedication includes exemplary leadership in automotive engineering education, SAE, and industry at-large. Dr. Yilmaz is also a Fellow of ASME (American Society of Mechanical Engineers) and a Fellow of NSPE (National Society of Professional Engineers).
Dr. Yilmaz serves as the editor-in-chief for the SAE International Journal of Fuels and Lubricants and an associate editor for the ASME Journal of Engineering for Gas Turbines and Power. Besides serving on the SAE ABET Accreditation Board, he is the Chair of SAE International Education Board. In addition, Dr. Yilmaz serves on the Board of Directors of the Turkish Society of Automotive Engineers.
Dr. Yilmaz has received numerous awards at the state, national and international levels. He has won the ASEE Section Outstanding Teaching Award (2013), the SAE International Excellence in Engineering Education "Triple E" Award (2016), SAE Ralph R. Teetor Educational Award (2011) and SAE Faculty Advisor Award (2013 and 2016).
SAE International is a global association committed to being the ultimate knowledge source for the engineering profession. By uniting over 127,000 engineers and technical experts, SAE drives knowledge and expertise across a broad spectrum of industries. SAE acts on two priorities: encouraging a lifetime of learning for mobility engineering professionals and setting the standards for industry engineering. SAE strives for a better world through the work of our philanthropic SAE Foundation, including programs like A World in Motion® and the Collegiate Design Series™.
Categories
Mechanical Engineering