Mechanical Engineering Faculty Lead Free Online Summer Immersion Program
June 10, 2020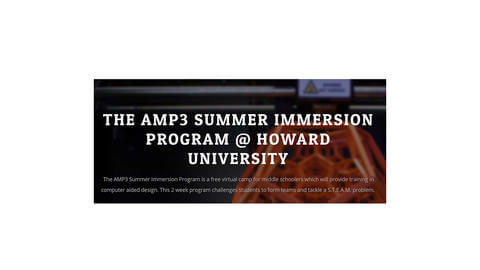 College of Engineering and Architecture Director of Innovation and Mechanical Engineering Associate Professor Grant Warner, Ph.D., along with Mechanical Engineering Professor Gbadebo Moses Owolabi, Ph.D., and Assistant Professor Hyung D. Bae, Ph.D., will be leading the AMP3 Summer Immersion Program at Howard University.
Dr. Warner, Dr. Owolabi and Dr. Bae are part of a team of four universities partnering with Department of Energy National Nuclear Security Administration facilities to solve high impact technical problems in additive manufacturing (or 3D printing). Read more about AMP3.
The AMP3Summer Immersion Program is a free online program for middle school students. All middle school students are welcome to apply for any of the four sessions through the AMP3 Summer Immersion Program website. The program provides training in computer-aided design with 20 hours of live instruction and 20 hours of homework over a span of two weeks.
Please visit the AMP3 Summer Immersion Program website for more information.
Categories
Mechanical Engineering