Mechanical Engineering Professor Nadir Yilmaz Becomes First ASEE Fellow at Howard University
July 3, 2023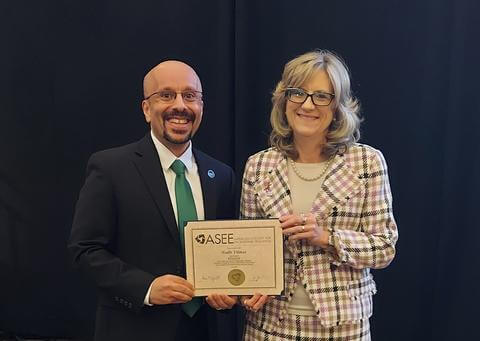 Howard University mechanical engineering professor and department chair Nadir Yilmaz, Ph.D., P.E., was recently elevated to fellow member of the American Society for Engineering Education (ASEE). The ASEE Board of Directors confers the grade of fellow members to recognize outstanding contributions to engineering education or engineering technology education and considerable individual contributions to ASEE.
"It is a distinct honor to join the Academy of ASEE Fellows, recognizing my passion to promoting excellence in engineering education, scholarship and service to the society. This recognition strengthens my commitment not only to educate the next generation of engineers but also to train and mentor future fellows for the advancement of engineering education," said Yilmaz.
Fellow membership is an honor that is granted only through nomination by another ASEE Fellow or an active ASEE member. With over 12,000 members across the country, only a small number are selected annually as ASEE Fellows. This year, only nine long-standing members were selected.
Yilmaz is an award-winning engineering educator, nationally recognized professional engineer, leading scholar, and an exemplary leader in the engineering community with a dedication to empowering underrepresented minorities in STEM. His advancement of engineering education is visible through numerous education and teaching awards, significant development of curricula, continued scholarship, promotion of engineering licensure and ethics, mentorship of underrepresented minorities and faculty, and service and leadership positions in professional societies.
"Dr. Yilmaz's recognition as a 2023 Fellow of the American Society for Engineering Education (ASEE) is an acknowledgement of his outstanding contributions to engineering education at Howard University," said John M.M. Anderson, Ph.D., dean of the Howard University College of Engineering and Architecture. "As the first ASEE member at Howard University to receive this distinction, Dr. Yilmaz's elevation to fellow adds to the academic reputation of Howard University's Department of Mechanical Engineering and College of Engineering and Architecture. I look forward to Dr. Yilmaz's continued contributions to improving our high-quality engineering programs."
Yilmaz's contributions to engineering education and outstanding teaching have been recognized by ASEE, as well as by the American Society of Mechanical Engineers (ASME), the National Society of Professional Engineers (NSPE) and SAE International, formerly named the Society of Automotive Engineers. Yilmaz is also a fellow member of each of these professional societies.
In 2013, Yilmaz was the recipient of the ASEE Gulf-Southwest Outstanding Teaching Award, which focuses on outstanding classroom performance, the 2013 New Mexico Tech University Distinguished Teaching Award and the 2013 SAE International Faculty Advisor Award (also received in 2016).
Recognized for successfully preparing young engineers to contribute towards addressing societal challenges with the 2011 SAE Ralph R. Teetor Educational Award, SAE International also honored Yilmaz in 2016 with the Excellence in Engineering Education (Triple E) Award. In 2017, he received the NSPE Engineering Education Excellence Award and the ASME Outstanding Section Advisor Award.
Categories
College of Engineering and Architecture and Mechanical Engineering