Meet the CEA Forbes Under 30 Scholars
October 18, 2019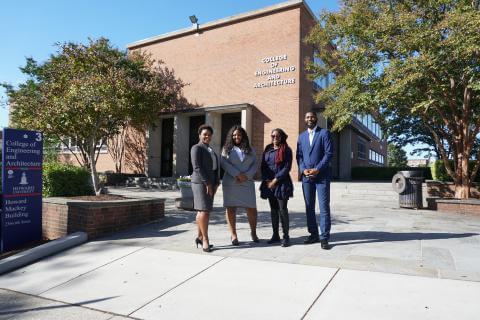 Updated, October 31: This article has been updated to reflect our sixth Forbes Under 30 Scholar, Mechanical Engineering Junior Saleah McFadden.
Six of our students have been selected as Forbes Under 30 Scholars for the 2019 Forbes Under 30 Summit. A summit with a social reach of 2.3B that attracts celebrities, business leaders, mentors and visionaries, and the world's best selection of young entrepreneurs is no ordinary event. The four-day event is the ultimate experience. As a bonus to the extraordinary networking opportunities, attendees will experience a private music festival featuring artists such as 21 Savage, Normani, and the Chainsmokers. They will also partake in the food festival anchored by world-famous chefs, the exciting field trips that are industry-focused, and an empowering full day of community service.
And to top it off, Forbes Under 30 Scholars are sponsored by Forbes. They attend free of charge.
Selected from among applicants from top schools across the country, our scholars, Kennedy Ivy, Alli Ashby, Marcus McCollum, Shaunelle Thomas, Shondace Thomas, and Saleah McFadden were able to make their applications stand out among the vast pool of applicants, as engineers passionate about entrepreneurship.
Chemical Engineering Senior Kennedy Ivy learned about the Forbes Under 30 Scholars program during her summer internship with Fiat-Chrysler Automobiles. To date, her training and experience have been in the manufacturing industry, but Ivy also wants to "explore the business side".
The idea of entrepreneurship has always intrigued her. Ivy aspires to manage her own lucrative business in the skincare innovation industry. "I can never find skincare products that agree with my extremely sensitive skin. I just need to create my own skincare line to help others like myself," she says.
Ivy plans to work in the manufacturing industry for a few years before returning to pursue her master's in business administration. "I want to gain enough experience in the manufacturing industry to create a high-quality product and then come back to get my business degree," she says.
Ivy strives to place herself in positive leadership roles, such as her role as president of the Howard University AIChE student chapter and former role as Miss CEA, that effectively influence her peers. "Go after any opportunity. Don't count yourself out. The worst outcome is that someone will say no to you. And then you just try again," she advises.
Mechanical Engineering Senior Alli Ashby also plans to pursue her MBA after a few years in industry. She looks forward to networking with business leaders and hopes that this phenomenal opportunity will help her define her business direction.
Ashby learned about the Forbes Under 30 Scholars program through the Harvard Business School Summer Venture in Management Program she attended this past summer. Ashby wants to branch out and take her engineering skills to another level, becoming a business leader. She has learned to always "be on the lookout for opportunities." Ashby says she has "had so many fun and enriching experiences, by simply being on the lookout and applying for opportunities."
Electrical Engineering Junior Marcus McCollum is looking forward to collaborating with other leaders at the summit, student leaders and business leaders alike, seeing the summit as an "immersive opportunity exclusive in its setting and networking" that will assist him in his future endeavors. McCollum learned about the Forbes Under 30 Scholars program during his summer internship with the Boeing Company. He hopes to use this experience as a platform to further develop his "tactics in mentorship, leadership, networking and service".
McCollum assumes leadership roles "to uplift others, promote opportunities and serve where most needed". He has served as president of the Howard University NSBE student chapter and currently serves as the Chief Networking Officer for T.R.U.S.T: A Society for Men (Teach, Retain and Unite in Science and Technology), an organization focused on creating a support system for students in STEM with brotherhood, professionalism, academic excellence, and community service serving as its pillars.
Computer Science Senior Shaunelle Thomas was encouraged to apply to the program by her sister, Computer Science Junior Shondace Thomas, who is currently a domestic exchange student at Stanford University. Both sisters were selected as 2019 Forbes Under 30 Scholars. Their father instilled in them the entrepreneurial mindset at a young age. Shaunelle Thomas has followed the Forbes business magazine since her early high school years. When she received the email from Forbes notifying her that she had been selected as a Forbes Under 30 Scholar, she was ecstatic. It almost seemed surreal.
Passionate about AI and machine learning, Shaunelle Thomas is looking to the summit to gain valuable insight into developing a business that can help her utilize machine learning to develop efficient solutions on a global scale.
Mechanical Engineering Junior Saleah McFadden also learned about the Forbes Under 30 Scholars program during her summer internship with Fiat-Chrysler Automobiles. Having developed a keen interest in both engineering and entrepreneurship during her early high school years, she saw the summit as an excellent educational opportunity. McFadden is ready to seize any educational opportunity that presents itself. She believes that "any type of knowledge can help improve our lives. For example, what holds people back is not necessarily a lack of resources, but a lack of knowledge of resources. Knowledge can really change our lives".
McFadden aspires to start a non-profit organization that will provide substantial educational resources to African American high school and college students for college and career readiness, as well as emphasize the importance of building generational wealth. "I want to tutor African American youth on building generational wealth," she says.
The summit also presented an excellent networking opportunity. "Build your network," she advises. "Having good connections early in your career can save you a lot of time. Work smarter, not harder. Know what opportunities can make you money while you sleep."
And our scholars unanimously agree on the highlight of the 2019 Forbes Under 30 Summit: Serena Williams.
(Pictured from left: Ivy, Ashby, Thomas, and McCollum; Far right: McFadden)
Categories
College of Engineering and Architecture