Meet HU Commencement 2019 Student Speaker Renee Whiteley
May 16, 2019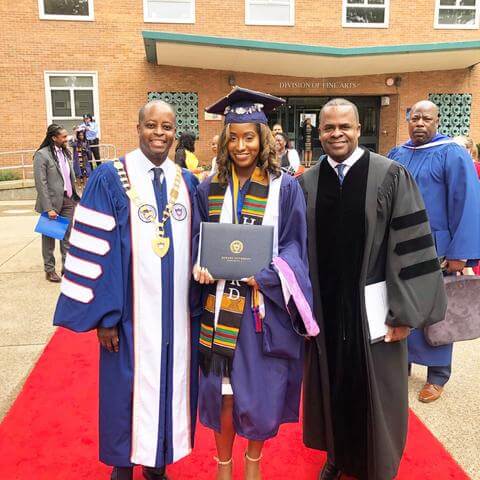 Class of 2019 Architecture Magna Cum Laude Graduate Renee Whiteley addressed her class and the university community at Howard University's 151st Commencement Convocation on May 12, 2019.
Poised and powerful in her deliverance, Whiteley was an exemplary commencement speaker.
Born in Brooklyn, NY, Whiteley moved back to Kingston, Jamaica with her family in her early years where her educational journey began. Whiteley remembers always being creative and appreciating design and structures, although initially she "didn't think to study architecture". In high school, her focus was mainly on art and business.
Whiteley was introduced to architecture by her high school art instructor who happened to be an architect. "Architects", she adds, "are typically keen on building, developing that interest from early childhood through Lego structures", but she had more of an eye for design.
Whiteley was always inspired by her mother who "accomplished so much at such a young age". A polished business woman who keeps it moving, "Mom was always someone's boss", Whiteley recalls, and she was known as the "boss's daughter". It wasn't until she moved away from home to attend Howard that she realized how amazing her mother was.
Whiteley acknowledged her mother near the beginning of her inspiring speech, as well as family and friends who supported her and taught her that "no man or woman is an island. Together we made it!"
The support of her family was especially significant given that she was only 15 years old when she graduated from high school. Whiteley then applied to Howard University and was accepted into the Architecture program. During her tenure at Howard, she reestablished the Howard University chapter of the National Organization for Minority Architecture Students (NOMAS), becoming its president and hosting several prestigious events such as the 2019 DC Hip Hop Architecture Camp Music Video Premiere.
As a result of her stellar academic performance, Whiteley was offered internships by Walt Disney Imagineering and Ryan Companies. She was the youngest student and only black woman in her cohort at Walt Disney Imagineering, as sophomores are not typically offered such opportunities. "It was a fascinating experience to walk through the crowds of Walt Disney World resort tourists without my ID badge to collect feedback on the designs I would create." The following year she was offered an internship with Ryan Companies, which subsequently decided they absolutely had to recruit Howard Architecture students as interns every year following her outstanding performance!
Whiteley looks forward to giving back to Jamaica when she has gained enough experience to open her own firm. She plans to begin her post-Howard journey as a project engineer with Mortenson Construction this summer.
We wish Whiteley the very best!
Categories
Alumni and Architecture