Meet Karsh STEM Scholar Nicole Sullivan
July 3, 2020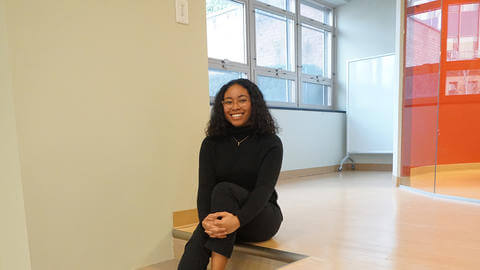 A native of Cerritos, California, rising Computer Science Junior Nicole Sullivan always wanted to be a scientist. Science was her favorite elementary school subject because she loved discovering things. When she was in middle school, Sullivan came across a website that featured computer games created by students. She was intrigued. In that moment she decided that computer science was the path for her.
From her early high school days, Sullivan knew she wanted to attend the computer science program at Howard University. She had learned of the program from family friends. Her interest in computer science flourished in high school when she took AP Computer Science. "The computer science program at Howard University is exceptional, and I wanted to be a part of such a phenomenal program. The College of Engineering and Architecture is home to some of the greatest minds," says Sullivan.
When Sullivan learned about the Karsh STEM Scholar Program, she eagerly applied. There was uncertainty as to how her family would be able to afford the tuition, but she was determined to find a way to attend Howard University.
Sullivan was ecstatic when she learned that she was accepted into the Karsh STEM Scholar Program. Not only would her acceptance into the program enable her to complete her undergraduate studies in computer science, but it would also provide the means for her to continue her education and obtain a Ph.D. in computer science.
After she began her studies at Howard University, Sullivan realized that she could integrate her computer science studies with environmental engineering. Sullivan is passionate about environmental studies and sustainability. She wants to develop ways to positively impact environmental monitoring, such as improving air and water quality, using artificial intelligence and machine learning to build smarter monitoring equipment.
Sullivan has been deeply concerned about the condition of our environment from early childhood. (Her elementary school drawings depict her "picking up trash" and helping to keep the environment clean.) As she transitioned to secondary school, this concern about the environment motivated her to act and become an advocate for environmental protection and sustainability. During her high school years Sullivan began exploring ways to advocate. She discovered and began to lead the recycling committee at her high school, Gahr High School, and since then has been actively leading and participating in recycling and clean-up projects. Sullivan joined the Howard University Water and Environmental Association upon its establishment in Spring 2019 to continue her efforts to help protect the environment.
And, yes, her exceptional computer science skills are applied towards community service as well.
Sullivan also serves as a DMV NSBE, Jr., robotics mentor for middle school students and a Microsoft Coding Academy lead learner, teaching elementary school students how to code.
Categories
Electrical Engineering and Computer Science