Meet Our Spring 2022 Ceremony Student Speakers Abdullah Jeffers and Lauren Moore
May 4, 2022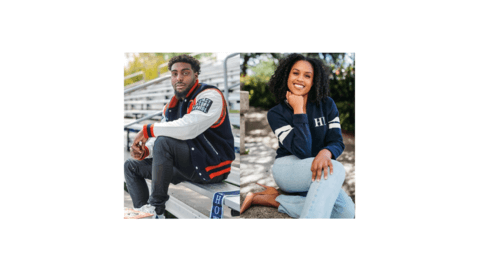 This year two outstanding CEA graduates will be speaking at our Spring 2022 CEA Awards and Recognition Ceremony, Abdullah Jeffers (BSChE '22) and Lauren Moore (BSCE '22). Their inspiring stories are shared in this feature.
Born in Washington, DC and raised in Philadelphia, Pennsylvania, chemical engineering graduate Abdullah Jeffers is the child of a Howard love story. His parents met at Howard University and then moved to his father's hometown of Philadelphia. Coming from a line of HBCU graduates, for Jeffers "it was a no-brainer to come to Howard". He wanted the HBCU experience, to be a part of the campus and greater community and to cultivate lifelong connections.
Engineering was not of much interest to him until his junior year of high school when he took an intro to engineering course at the Science Leadership Academy, where he attended high school. On his second day, the instructor spoke about how some of the world's biggest challenges can potentially be solved through engineering. This persuaded him to want to become an engineer. As for his selection of an engineering discipline, his strong interest in chemistry along with the problem-solving mindset instilled in him from an early age by his father were the deciding factors for him to pursue a degree in chemical engineering.
During his high school years, Jeffers worked on LEED home remodeling with his family, from which he learned construction and engineering principles as well as project management skills.
"I think the ability to create things as an engineer is a form of art. I plan to build a large lab and just experiment and create, hopefully being able to solve some of the world's most challenging problems," Jeffers shared.
As a chemical engineer and young entrepreneur who always makes time for community service, Jeffers keeps busy. He has started his own clothing brand GoodHeat, has mentored disenfranchised youth on careers in STEM with the Howard University chapter of the National Society of Black Engineers (NSBE), and hosted independent financial literacy workshops for his peers. Jeffers also established his non-profit Everyone Eats Together (EETs) through which he has organized fundraising events to feed hundreds of homeless individuals.
What keeps him motivated?
His family and failure.
"I wasn't always the most motivated or happy person. Failure has helped me appreciate being in a good place and I am now trying to stay in a good place and to continue learning new things," said Jeffers.
And his best advice?
"Focus on where you are and what you're doing. Be in the moment. Stay present. Develop your ability to focus - that would be my best advice. And don't ever limit yourself. There is always enough time to do what you need to do."
Jeffers will begin his career with Accenture Federal Services as a technology consultant for technology/business solutions this summer.
Civil engineering graduate Lauren Moore also comes from a line of HBCU graduates. A native of Atlanta, Georgia, and the child of an HBCU love story, her parents always emphasized the significance of an HBCU education. Wanting the freedom in her school environment to be herself and fully embrace her black identity, Moore applied to Howard University and was accepted to Howard University as a Karsh STEM Scholar (formerly the Bison STEM Scholar Program).
Having been good at math and science since the beginning of elementary school, Moore says she absolutely fell in love with science in high school and recalls enthusiastically reading her "biology textbook from front to back". Being inspired by her high school physics teacher, who as a young and successful black woman was a role model for her, Moore was convinced she would pursue a career in STEM.
She was introduced to civil engineering by her cousin who was a young and fresh civil engineer. Moore became interested in its being a hands-on profession, and in her view, a discipline that connected construction and architecture, both fields that she was considering.
While maintaining an excellent GPA, Moore was also quite active in advocating for her peers and volunteering, serving in leadership roles for the CEA student council as a freshman and sophomore, and as president in her junior year. In her senior year, Moore served as president of the Howard University District of Columbia Alpha Chapter of Tau Beta Pi, the national engineering society. For her volunteer work and community service, Moore served as a tutor for the NSBE, Jr. KidWind and FutureCity projects that are aimed at preparing secondary school students for college, as a team leader for Howard Day of Service, and has volunteered with community organizations around the district such as the Halo Community Garden, Green City Force, and Capital Area Food Bank.
Alongside her overall unforgettable experience and the powerful connections she has made at HU, Moore says her most memorable experience was when former civil and environmental engineering department chair Kimberly L. Jones, Ph.D. (BSCE '90) facilitated a meeting for a few student leaders with the speaker of the United States House of Representatives Nancy Pelosi.
"It was the best meeting ever," she recalls.
So what keeps her motivated?
Her main motivator, she says, is her personal happiness and life fulfilment. This in turn has motivated her to work hard academically and create opportunities through networking, while catering to all her interests.
"We are the creators of our life. I want to forge my own path," she said.
Moore also wants to be able to show her parents how much she appreciates all the sacrifices they have made for her.
And her best advice?
"Get involved. Your HU experience is what you make of it and there is so much to experience. Try and put yourself out there. There is a group for everyone, and always a connection to be made. People of color are so diverse!
"Also, be sure to cultivate relationships with faculty because they are super knowledgeable. You can learn so much from them outside of class. They are very experienced in their fields, and you will benefit greatly from these connections."
Moore will be pursuing her Master of Science in building technology at the Massachusetts Institute of Technology this Fall.
Categories
Chemical Engineering, Civil and Environmental Engineering and College of Engineering and Architecture