Professor Bradford Grant Receives 2021 ACSA Distinguished Professor Award
March 1, 2021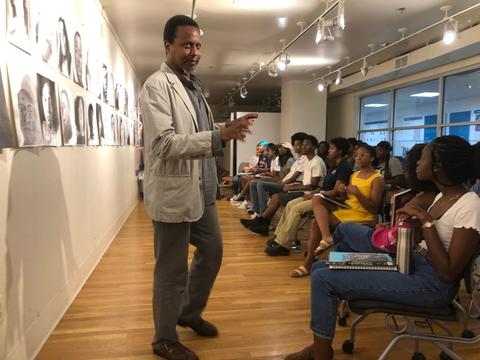 Architecture Professor Bradford Grant recently received the 2021 Association of Collegiate Schools of Architecture (ACSA) Distinguished Professor Award. According to the ACSA website, the ACSA Distinguished Professor Award honors architectural educators for exemplary work in areas such as building design, community collaborations, scholarship, and service.
A native of the California Bay Area, Grant has had a wealth of experiences as a registered architect that have reinforced his design pedagogy. His teaching career began in 1983, and he had the opportunity to teach at five universities before joining Howard University's architecture program in 2007.  In addition to his outstanding leadership in several administrative, teaching and advising roles at Howard University, Grant served as past president of the ACSA, Humanities DC, and the Center for Contemplative Mind in Society. He is currently president of the board of the Healthy Building Network and is the co-founder of the Directory of African American Architects, the first comprehensive survey, analysis and report on the numbers and role of African American architects. Grant is also the inaugural Instagram Artist in Residence at the Smithsonian National Portrait Gallery. 
His work is dedicated to the intersection of social justice, climate change, race and architecture, planning and community design, environmental justice, and universal design. Grant aims to help his students understand their role in transforming our society through design. His mentoring, educational development, support and leadership have led to advancements in inclusion and equity in architecture education, especially at Historic Black Colleges and Universities (HBCUs). His community design work, research on African American architects and his teachings on Drawing as Meditation have earned him the Virginia Downtown Development Association Award, the AIA Education Honor Award, the AIA Institute Honor for Collaborative Achievement and the Center for Contemplative Mind in Society Contemplative Practice fellowship.
Leading Howard's first-year design studios and other student-centered activities has been a platform for Grant to support and advocate for students and junior faculty. The research he has led for the Carnegie Community Impact Health Disparity Research Grant and the ACSA/Howard Haiti Ideas Challenge have helped advance architecture education. Grant extends his meaningful work beyond Howard University by collaborating with colleagues at the Miami University of Ohio, Hampton University, Florida Agriculture and Mechanical University, and with the National Organization of Minority Architects.
Over the course of his expansive 38-year academic career, Grant has been a tireless advocate and activist for both marginalized communities and the architecture academy.
Read the ACSA press release.
Categories
Architecture and College of Engineering and Architecture